| | |
| --- | --- |
| Book Name: | Advances in Design and Testing of Future Smart Roads |
| Category: | Civil Engineering Books |
| Language: | English |
| Format: | PDF |
| Free Download: | Available |
Free Download Advances in Design and Testing of Future Smart Roads PDF Book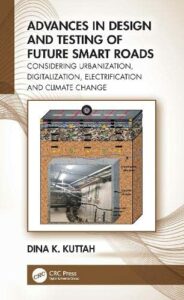 Book Description: 
The streets and roads constitute an enormous part of civil infrastructure and a large part of our cities- a social resource that must be properly managed and developed. Therefore, many road construction companies, contractors, transport and traffic administrations, and municipalities are seeking new road design models that can withstand modern challenges and demands. Advances in Design and Testing of Future Smart Roads: Considering Urbanization, Digitalization, Electrification, and Climate Change deal with adapting current road designs to withstand these future challenges better as well as optimizing their structural design. Furthermore, the book illustrates recommendations and models for street/road sections, including the road section with a reconfigurable design, which can be used in both the reconstruction and new construction of roads.
Book Features:
• Covers road testbeds that meet the challenge of future urbanization, including digitalization and electrification
• Provides recommendations for potential climate change impacts, including flooding and ice accumulation problems
• Introduces the concept of reconfigurable and removable streets including recommendations for corresponding street testbeds
This book will be of interest to road construction companies and contractors, transport and traffic administrations and municipalities, lecturers, researchers, students, and anyone interested in transport infrastructure and future road designs.
Download Advances in Design and Testing of Future Smart Roads: Considering Urbanization, Digitalization, Electrification and Climate Change PDF
Author(s): Dina K. Kuttah
Publisher: CRC Press, Year: 2022
ISBN: 1032248076,9781032248073
Related More Books