Advances in Security in Computing and Communications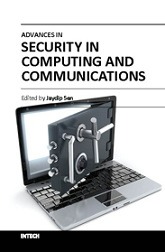 Book Description 
In the era of the Internet of Things (IoT) and with the explosive worldwide growth of electronic data volume, and the associated need for processing, analysis, and storage of such an enormous volume of data, several new challenges are faced in protecting the privacy of sensitive data and securing systems by designing novel schemes for secure authentication, integrity protection, encryption, and non-repudiation. Lightweight symmetric key cryptography and adaptive network security algorithms are in demand for mitigating these challenges.
This book presents some state-of-the-art research work in cryptography and security in computing and communications. It is a valuable source of knowledge for researchers, engineers, practitioners, graduates, and doctoral students working in cryptography, network security, and security and privacy issues in the Internet of Things (IoT). It will also be helpful for faculty members of graduate schools and universities.
About the Authors
Prof. Jaydip Sen has around 25 years of experience in the field of communication network protocol design, network analysis, cryptography, network security, and analytics.
Advances in Security in Computing and Communications PDF
Author(s): Jaydip Sen (ed.)
Publisher: InTech, Year: 2017
ISBN: 9789535133452