Aircraft Electrical and Electronic Systems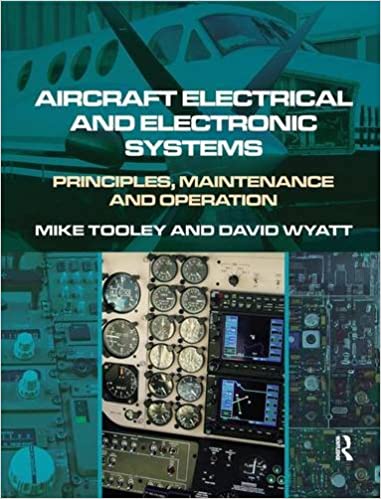 Introducing the principles of aircraft electrical and electronic systems, this book is written for anyone pursuing a career in aircraft maintenance engineering or a related aerospace engineering discipline, and in particular will be suitable for those studying for licensed aircraft maintenance engineer status. It systematically addresses the relevant sections of modules 11 and 13 of part-66 of the EASA syllabus, and is ideal for anyone studying as part of an EASA and FAR-147 approved course in aerospace engineering.
Delivers the essential principles and knowledge base required by Airframe and Propulsion (A&P) Mechanics for Modules 11 and 13 of the EASA Part-66 syllabus and BTEC National awards in aerospace engineering
Supports Mechanics, Technicians and Engineers studying for a Part-66 qualification
Comprehensive and accessible, with self-test questions, exercises and multiple choice questions to enhance learning for both independent and tutor-assisted study
Chapter 1: Electrical fundamentals.
Chapter 2: Electronic fundamentals.
Chapter 3: Digital Fundamentals.
Chapter 4: Generators and Motors.
Chapter 5: Batteries.
Chapter 6: Power supplies.
Chapter 7: Wiring and circuit protection.
Chapter 8: Distribution of power supplies.
Chapter 9: Controls and transducers.
Chapter 10: Engine systems.
Chapter 11: Fuel management.
Chapter 12: Lights.
Chapter 13: Cabin systems.
Chapter 14: Airframe control and indicating systems.
Chapter 15: Warning and protection systems.
Chapter 16: Fire and overheat protection.
Chapter 17: Terrain awareness warning systems (TAWS).
Chapter 18: Flight data and cockpit voice recorders.
Chapter 19: Electrical and magnetic fields.
Chapter 20: Continuing airworthiness.
Pages 425
Filesize 11.1 MB
Related Results : aircraft electrical and electronic system lightning protection,aircraft electrical and electronic systems,aircraft electrical and electronic systems by david wyatt mike tooley,aircraft electrical and electronic systems mike tooley pdf,aircraft electrical and electronic systems pdfaircraft electrical and electronic systems principles,
See More POST On : Engineering Books