| | |
| --- | --- |
| Book Name: | Antennas for Base Stations in Wireless Communications |
| Category: | Telecommunication Books |
| Free Download: | Available |
Free PDF Download Antennas for Base Stations in Wireless Communications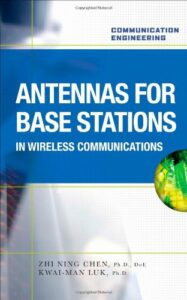 Book Description:
Design Antennas for Modern Wireless Communications Systems
Written by a global team of expert contributors, this book offers complete details on the wide range of antennas used in today's wireless communication networks. Coverage includes the most popular applications in WWAN (GSM, CDMA, and WCDMA), WLAN (Bluetooth and WiFi), WMAN (WiMAX), and WPAN (UWB and RFID).
Antennas for Base Stations in Wireless Communications presents a full picture of modern base station antenna technology–from fundamentals and parameters to engineering and advanced solutions–and highlights new technologies in antenna design with enhanced performance. Real-world case studies provide you with practical examples that can be applied to your own system designs.
• Apply measurement techniques for various parameters
• Enable frequency re-use and channel capacity optimization in mobile radio networks
• Design antennas for mobile communications-CDMA, GSM, and WCDMA
• Implement advanced antenna technologies for GSM base stations
• Facilitate enhanced system capacity
• Design unidirectional antennas, including directed dipole, wideband patch, and complementary antennas
• Optimize antenna designs for WLAN (WiFi) applications
• Design antennas for Wireless Personal Area Network (WPAN) applications, including RFID and UWB
Antennas for Base Stations in Wireless Communications PDF
Author(s): Zhi Ning Chen, Kwai-Man Luk
Series: Communication engineering
Publisher: McGraw-Hill, Year: 2009
ISBN: 9780071612890
Related More Books