Bioactive Carboxylic Compound Classes – Pharmaceuticals and Agrochemicals by Lamberth and Dinges :: Three years ago, shortly after the publication of our first book "Bioactive Heterocyclic Compound Classes," we had been contacted by several readers, but also contributors, who praised the concept of combining all important heterocyclic active ingredient classes with short, educational, similarly structured chapters within one book. This positive feedback encouraged us to apply the same concept also to the second major group of functional groups, which play an important role in pharmaceuticals and agrochemicals. These are, besides the already covered heterocycles, the derivatives of carboxylic acids, which means not only the acids themselves but also their esters, amides, ureas, carbamates, hydrazides, thioesters, and so on.
According to our definition, such a carboxylic compound class is made up of three or more commercialized active ingredients that (i) bear the same carboxyl functionality, means acyclic C==O functions except aldehydes and ketones; (ii) possess the same or at least a similar scaffold and a similar substitution pattern; and (iii) have the same mode of action. To be able to cover the most important carboxylic active ingredient families in medicine and crop protection within one book, we had to focus. Therefore, we declared the following functional groups or compound classes to be "out of scope": (i) all functional groups based on a C==S motif; (ii) cyclic carboxylic compounds with a C==O group (lactones, lactams, diketopiperazines), as they have been covered already in "Bioactive Heterocyclic Compound Classes"; (iii) sulfonic acid derivatives with a SO2 function; and (iv) peptides and macrocycles.
As it was already the case for "Bioactive Heterocyclic Compound Classes," also the chapters of this book are divided into the same five sections: (i) introduction, (ii) history, (iii) synthesis, (iv) mode of action, and (v) structure–activity relationship. Only the agrochemical chapters possess an additional section "biological activity" to describe the target spectrum of the active ingredients.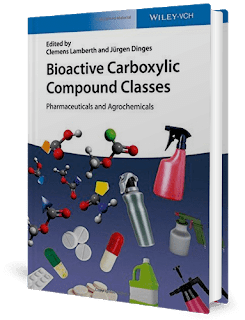 Bioactive Carboxylic Compound Classes – Pharmaceuticals and Agrochemicals by Lamberth and Dinges
Title:

Bioactive Carboxylic Compound Classes – Pharmaceuticals and Agrochemicals

Editor:

Clemens Lamberth
Jürgen Dinges

Edition:

1st

Publisher:

Wiley – VCH

Length:

529 pages

Size:

13.1 MB

Language:

English
Download