Building the Infrastructure for Cloud Security: A Solutions View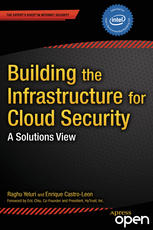 Book Description:
For cloud users and providers alike, security is an everyday concern, yet there are very few books covering cloud security as the main subject. This book will help address this information gap from an Information Technology solution and usage-centric view of cloud infrastructure security. The book highlights the fundamental technology components necessary to build and enable trusted clouds. Here also is an explanation of the security and compliance challenges organizations face as they migrate mission-critical applications to the cloud and how charged clouds that have their integrity rooted in hardware can address these challenges.
About the Authors
Raghu Yeluri is a Principal Engineer and leads Security Solutions Architect in the Data Center & Cloud Products Group at Intel Corporation, focusing on virtualization and cloud security usages, solution architectures, and technology initiatives.
Table of contents :
Front Matter….Pages i-xxvii
Cloud Computing Basics….Pages 1-17
The Trusted Cloud: Addressing Security and Compliance….Pages 19-36
Platform Boot Integrity: Foundation for Trusted Compute Pools….Pages 37-64
Attestation: Proving Trustability….Pages 65-91
Boundary Control in the Cloud: Geo-Tagging and Asset Tagging….Pages 93-121
Network Security in the Cloud….Pages 123-140
Identity Management and Control for Clouds….Pages 141-159
Trusted Virtual Machines: Ensuring the Integrity of Virtual Machines in the Cloud….Pages 161-178
A Reference Design for Secure Cloud Bursting….Pages 179-210
Back Matter….Pages 211-216
Building the Infrastructure for Cloud Security: A Solutions view
Author(s): Raghu Yeluri, Enrique Castro-Leon (auth.)
Publisher: Apress, Year: 2014
ISBN: 978-1-4302-6145-2