| | |
| --- | --- |
| Book Name: | Circular Economy in the Construction Industry |
| Category: | Civil Engineering Books |
| Language: | English |
| Format: | PDF |
| Free Download: | Available |
Free Download Circular Economy in the Construction Industry Book PDF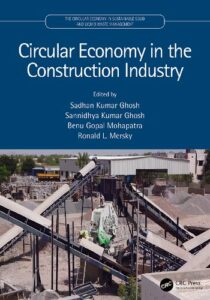 Book Description:
Circular Economy in the Construction Industry is an invaluable resource for researchers, policymakers, implementers, and Ph.D. and Masters-level students in universities analyzing the present status of Construction and Demolition Wastes (C&DW) management, materials development utilizing slag, fly ash, HDPE fiber, geo-wastes, and other wastes, green concrete, soil stabilization, resource circulation in construction sectors, success in experimentation & commercial production, future needs, and future research areas. While huge C&DW is wasted by dumping, there is the potential for recycling preventing greenhouse gas (GHG) emissions and environmental pollution, as well as creating business opportunities. The circularity of resources in the construction industry can contribute to a more secure, sustainable, and economically sound future through proper policy instruments, management systems, and recycling by selecting the following:
Supply chain sustainability and collection of C&D Wastes,
Appropriate separation and recycling technology,
Enforcement of policy instruments,
Productivity, quality control of recycled products and intended end use,
Economic feasibility as a business case, commercialization, generating employment.
This book addresses most of the above issues lucidly by experts from different countries, which is helpful for the related stakeholders edited by experts in the field.
Download Circular Economy in the Construction Industry PDF 
Author(s): Sadhan Kumar Ghosh, Sannidhya Kumar Ghosh, Benu Gopal Mohapatra, Ronald L. Mersky
Series: The Circular Economy in Sustainable Solid and Liquid Waste Management
Publisher: CRC Press, Year: 2021
ISBN: 1032108967,9781032108964
Related More Books