Free and Open Machine Learning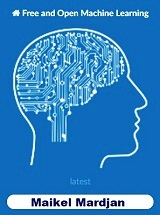 Book Description
This book describes an open machine learning architecture. Covers key aspects relevant to real business use. It focuses on free and open source machine learning software (FOSS) and open datasets.
This book was created to promote and advocate the use of machine learning open source software for real business use cases. Machine learning is a fascinating technology.
Free and open machine learning must be the standard for business innovation. So simple to use for complex problems. Key machine learning concepts are described and a conceptual and logical reference for a free and open machine learning architecture is provided.
This book is made for anyone who wants to learn and get started with machine learning without being tied to a specific solution.
Machine learning applications can be created using only on-premises and open source software building blocks. This important book describes machine learning concepts, but won't go into mathematical or technical details. After reading this book, you will have a fuller and more realistic overview of the possibilities of applying machine learning (ML) to your use cases.
This book helps people get off to a good start using powerful machine learning in a free, open, and easy way.
BOOK CONTENTS
Preface
Introduction
Why Free and Open Machine Learning
What is machine learning
Machine Learning for Business Problems
ML Reference Architecture
Security,Privacy and Safety
Natural Language Processing
ML implementation challenges
About Author
Maikel Mardjan is a practicing enterprise IT architect and loves creating simple designs for complex IT systems.