How Humans Judge Machines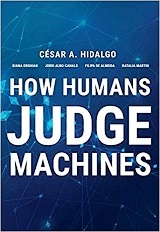 Book Description
Detailed examination of human response to machine action versus human action. Through dozens of experiments, this book explores when and why humans judge humans and machines differently.
How would you feel when you lost your job to a machine? How about a faulty tsunami warning system? Would you react differently to discriminatory acts depending on whether they were performed by machines or by humans? What about public scrutiny?
This book compares human responses to actions performed by humans and machines. Using data gathered from dozens of experiments, this book reveals biases in human-computer interactions.
It presents a unique perspective on the connection between AI and society. Anyone interested in the future of AI ethics should explore experiments and theories in How Humans Judge Machines.
It uses hard science to solve these pressing technological problems. Using random experiments, he creates counterfactuals and builds statistical models to explain how people rate artificial intelligence and whether they do so fairly. . Through original research, How Humans Judge Machines brings us one step closer to understanding the ethical implications of AI.
About Authors
Cesar A. Hidalgo, Director of the Center for Collective Learning at the University of Toulouse.
How Humans Judge Machines
Author(s): Cesar A. Hidalgo, Diana Orghiain, Jordi Albo Canals, Filipa De Almeida, Natalia Martin
Publisher: The MIT Press, Year: 2021
ISBN: 0262045524,9780262045520