Kotlin® Notes for Professionals Book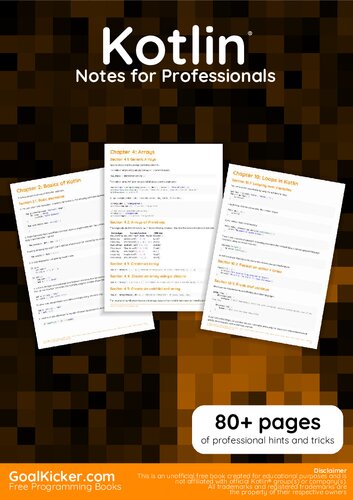 Kotlin Notes for Professionals book overview
What are people saying about the Notes for Professionals books?
This is good technical stuff for beginners and intermediates looking to learn any technology.
Wow. This is awesome. Thank you!
Thank you to everyone who contributed to this excellent and concise collection.
These free programming reference books are pretty nice: http://books.goalkicker.com/.
This is super useful for reference. Many thanks to whoever did this. Instead of browsing, clicking, and digging infinitely, now I have ONE in one place.
Wow! excellent resource Thanks a lot!
The Kotlin Notes for Professionals book is compiled from Stack Overflow Documentation. The beautiful people at Stack Overflow write the content. Text content is released under a Creative Commons BY-SA license. See credits at the end of this book for those who contributed to the various chapters. Images may be copyrighted by their respective owners unless otherwise specified.
This book was written solely for educational purposes and had no affiliation with the Kotlin® group(s), company(s), or Stack Overflow. All trademarks belong to their respective company owners.
94 pages, published in May 2018.
Kotlin® Notes for Professionals book
Author(s): GoalKicker Books
Series: Programming Notes for Professionals
Publisher: GoalKicker Books, Year: 2018