My Dream of Stars: From Daughter of Iran to Space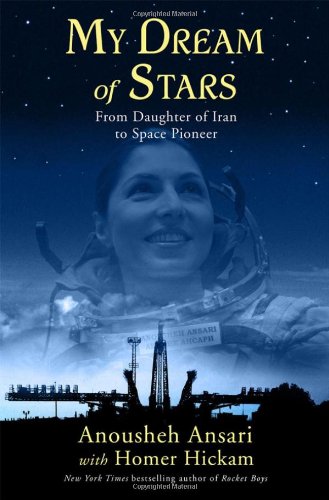 Table of contents :
Contents……Page 8
Acknowledgments……Page 10
Preface……Page 12
First Stage: An Iranian Girl……Page 16
Growing Up Iranian……Page 18
Revolution……Page 32
Second Stage: A Woman of the World……Page 42
The Alpha Ansari System……Page 44
Texas……Page 66
A New Beginning……Page 86
An Old Dream Comes Alive……Page 104
Plates……Page 114
Third Stage: A Woman of the Stars……Page 122
Star City……Page 124
Training for the Stars……Page 142
A Patch of Trouble……Page 172
Into Space……Page 192
At Home among the Stars……Page 212
Return to Earth……Page 242
Epilogue……Page 250
Book Description:
In her heartwarming and empowering memoir, space pioneer Anousheh Ansari tells the story of her childhood in Iran and her family's exodus to America after the Islamic Revolution. After settling down in Texas, Anousheh built a computer technology firm from the ground up, which eventually realized a net worth of $750 million and ultimately allowed her to achieve her childhood dream of spaceflight. In her groundbreaking role as the first-ever female commercial spaceflight participant, her story became politicized and fraught with the prejudices and obstacles she had to overcome as an Iranian woman, culminating in a debate over whether she would be allowed to display both the American and Iranian flags on the sleeve of her spacesuit. After her return to Earth, Anousheh started The Ansari Foundation. This quickly growing nonprofit supports social entrepreneurship and is especially committed to ensuring women's freedom worldwide and supporting female entrepreneurs. Ultimately, this powerful story shows the triumph of a woman who has become a role model for people worldwide trying to overcome economic and cultural barriers and for dreamers who look at the stars and want to fly among them.
My Dream of Stars: From Daughter of Iran to Space Pioneer PDF
Author(s): Anousheh Ansari, Homer Hickam
Publisher: Palgrave Macmillan, Year: 2010
ISBN: 9780230619937