Free PDF Download New Developments and Applications in Sensing Technology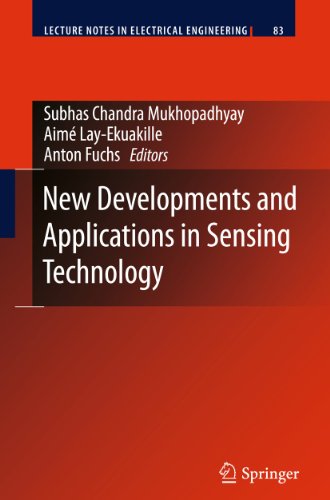 Book Description:
This book has focussed on different aspects of smart sensors and sensing technology, i.e. intelligent measurement, information processing, adaptability, recalibration, data fusion, validation, high reliability and integration of novel and high-performance sensors in the areas of magnetic, ultrasonic, vision and image sensing, wireless sensors and network, microfluidic, tactile, gyro, flow, surface acoustic wave, humidity and ultra-wideband. While future interest in this field is ensured by the constant supply of emerging modalities, techniques and engineering solutions, as well as an increasing need from aging structures, many of the basic concepts and strategies have already matured and now offer opportunities to build upon.
The book has primarily been focused for postgraduate and research students working on different aspects of design and development of smart sensors and sensing technology.
Table of contents :
Detection of Micro-cracks on Metal Surfaces Using Near-Field Microwave Dual-Behaviour Resonators….Pages 1-13
Improving the Energy Efficiency of Wireless Sensors through Smart Antenna Design….Pages 15-37
Planar Electromagnetic Sensor for the Detection of Nitrate and Contamination in Natural Water Sources Using Electrochemical Impedance Spectroscopy Approach….Pages 39-63
Current Reconstruction Algorithms in Electrical Capacitance Tomography….Pages 65-106
Non-destructive Control of Metallic Plate with Magnetic Techniques….Pages 107-122
Gas Sensing Characteristics of Pure and ZnO-Modified Fe 2 O 3 Thick Films….Pages 123-132
Design and Construction of a Configurable Full-Field Range Imaging System for Mobile Robotic Applications….Pages 133-155
Cr 2 O 3 -doped BaTiO 3 as an Ammonia Gas Sensor….Pages 157-167
Physical and Electrical Modeling of Interdigitated Electrode Arrays for Bioimpedance Spectroscopy….Pages 169-189
Water Quality Assessment through Smart Sensing and Computational Intelligence….Pages 191-206
Multi-spectral Analytical Systems Using LIBS and LII Techniques….Pages 207-232
Electromechanical Sensors Based on Carbon Nanotube Networks and Their Polymer Composites….Pages 233-251
Novel Planar Interdigital Sensors for Detection of Domoic Acid in Seafood….Pages 253-278
Nano-Biosensor Development for Biomedical and Environmental Measurements….Pages 279-292
Nondestructive Evaluations of Iron-Based Materials by Using AC and DC Electromagnetic Sensors….Pages 293-303
STACK: Sparse Timing of Algorithms Using Computational Knowledge….Pages 305-320
A New Approach to Estimation of Protein Networks for Cell Cycle Based on Least-Squares Method….Pages 321-331
New Developments and Applications in Sensing Technology PDF
Author(s): Julien Kerouedan, Patrick Quéffélec (auth.), Subhas Chandra Mukhopadhyay, Aimé Lay-Ekuakille, Anton Fuchs (eds.)
Series: Lecture Notes in Electrical Engineering 83
Publisher: Springer-Verlag Berlin Heidelberg, Year: 2011
ISBN: 3642179428,9783642179426