Myoblast Transfer Therapy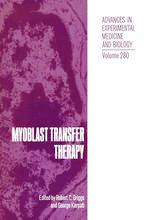 Myoblast Transfer Therapy Book Description:
I am pleased to introduce this volume on Myoblast Transfer Therapy on behalf of the Muscular Dystrophy Association and all of its Advisory Committees. The international conference which led to this volume brought together leading basic scientists and clinical investigators for the purpose of coordinating the development of this new field in the fight against muscular dystrophy. The Muscular Dystrophy Association is the nation's most rapidly growing voluntary health agency in terms of its programs of patient care, research, and professional and public education. Success is attributable to its National Chairman, Jerry Lewis, to its effective corporate membership, and to the many physicians and scientists who give their time freely to advise on policies, to review grant applications, and to participate in meetings such as this. I should like to acknowledge a large number of other individuals to whom we are indebted: the broad segment of the American public which continually and generously supports our spectrum of services. The Muscular Dystrophy Association, next year, should raise in excess of $115,000,000. These contributions are derived from more than 10 million American families. These families are not only pledging their money but expressing their hopes that we will find answers to the tragic problem of neuromuscular disease. We are confident that the fruits of this meeting will move the frontier of research forward toward that goal.
Myoblast Transfer Therapy PDF
Author(s): Stephen J. Tapscott, Robert L. Davis, Andrew B. Lassar, Harold Weintraub (auth.), Robert C. Griggs, George Karpati (eds.)
Series: Advances in Experimental Medicine and Biology 280
Publisher: Springer US, Year: 1990
ISBN: 978-1-4684-5867-1
[PDF] Myoblast Transfer Therapy Table Of Contents
Front Matter….Pages i-xii
Front Matter….Pages 1-1
MyoD: A Regulatory Gene of Skeletal Myogenesis….Pages 3-6
Myoblasts, Satellite Cells, and Myoblast Transfer….Pages 7-11
Regeneration of Skeletal Muscle Fibers after Necrosis….Pages 13-15
Detection of Truncated Dystrophin in Fetal DMD Myotubes….Pages 17-23
Front Matter….Pages 29-29
Immunological Aspects of Histoincompatible Myoblast Transfer into Non-Tolerant Hosts….Pages 31-34
A Comparison of Long-Term Survival of Muscle Precursor Cell Suspensions and Minced Muscle Allografts in the Non-Tolerant Mouse….Pages 35-39
N-CAM is a Target Cell Surface Antigen for the Purification of Muscle Cells for Myoblast Transfer Therapy….Pages 41-46
Immunochemical Analyses of the Myoblast Membrane and Lineage….Pages 47-55
Front Matter….Pages 67-67
The Principles and Practice of Myoblast Transfer….Pages 69-74
Myoblast Transfer Improves Muscle Genetics/Structure/Function and Normalizes the Behavior and Life-Span of Dystrophic Mice….Pages 75-87
Practical Aspects of Myoblast Implantation: Investigations on Two Inherited Myopathies in Animals….Pages 89-96
Purification and Proliferation of Human Myoblasts Isolated with Fluorescence Activated Cell Sorting….Pages 97-100
The Proliferation and Fusion of Myoblasts In Vivo ….Pages 101-106
The DMD Gene Promoter: A Potential Role in Gene Therapy….Pages 107-112
Front Matter….Pages 129-129
Fibroblasts Fuse with Myotubes Developing in Culture….Pages 131-137
Phenotypic and Functional Reversion of Muscular Dysgenesis by Heterotypic Fibroblast-Myotube Fusion In Vitro ….Pages 139-146
Control of Satellite Cell Proliferation….Pages 147-158
Regeneration of Skeletal Muscle Induced by Satellite Cell Grafts….Pages 159-166
Localization of Muscle Gene Products in Nuclear Domains: Does this Constitute a Problem for Myoblast Therapy?….Pages 167-172
Mouse Chimeras and Genetic Rescue of Mosaic Muscle….Pages 173-185
Front Matter….Pages 191-191
Improved Media for Rapid Clonal Growth of Normal Human Skeletal Muscle Satellite Cells….Pages 193-199
Retroviral Lineage Markers for Assessing Myoblast Fate In Vivo ….Pages 201-203
Myogenic Conversion of Human Non-Muscle Cells for the Diagnosis and Therapy of Neuromuscular Diseases….Pages 205-210
Front Matter….Pages 217-217
Genetic and Biochemical Determinations in the Pre-Transplant Workup and in the Post-Transplant Assessment Period….Pages 219-226
Use of Quantitative Myometry in the Evaluation of Myoblast Transfer Therapy….Pages 227-229
Issues in Myoblast Transfer….Pages 231-233
Quantitation of Muscle Mass and Muscle Protein Synthesis Rate: Documenting a Response to Myoblast Transfer….Pages 235-240
Plausible Structural/Functional/Behavioral/Biochemical Transformations Following Myoblast Transfer Therapy….Pages 241-250
MDX Mouse as Therapeutic Model System: Development and Implementation of Phenotypic Monitoring….Pages 251-265
Golden Retriever Muscular Dystrophy: Monitoring for Success….Pages 267-272
Molecular Markers for Myoblast Transplantation in GRMD….Pages 273-278
The Role of the XMD Dog in the Assessment of Myoblast Transfer Therapy….Pages 279-284
The Dilemma of Manifesting Carriers in the Context of Myoblast Transplantation….Pages 285-286
Immunosuppressive Therapy in Duchenne Muscular Dystrophy: Considerations for Myoblast Transfer Studies….Pages 287-295
Front Matter….Pages 305-305
Synopsis of Proceedings of the Workshop on the Implementation of Myoblast Transfer in Humans….Pages 307-308
Back Matter….Pages 309-316