| | |
| --- | --- |
| Book Name: | [PDF] Principles and practices of commercial construction |
| Category: | Civil Engineering Books |
| Language: | English |
| Format: | PDF |
| Free Download: | Available |
Free Download Principles and practices of commercial construction PDF Book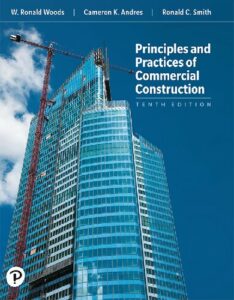 BOOK DESCRIPTION:
A practical, well-rounded approach to modern construction principles and practices
Principles and Practices of Commercial Construction teach students how to apply design theory to the construction process, providing crucial working knowledge for contractors managing subcontractors. Progressing from basic to advanced material, the text appears on the approved reference list for numerous states requiring contractors to pass licensing exams. Its flexible organization allows instructors to teach each chapter on a standalone basis in various construction, architecture, and engineering courses. The 10th edition expands its discussion of practical applications in structural design projects and adds practice opportunities to prepare students for licensing exams.
BOOK ACKNOWLEDGMENTS
The construction industry is a unique collection of planners, design professionals, manufacturing firms, and tradespeople. The industry's success is a testimonial of the combined expertise of these individuals and firms. Principles and Practices of Commercial Construction are only made possible by every industry segment's contributions, direct or indirect. Organizations such as the Portland Cement Association, the American Concrete Institute, and the Canadian Institute of Steel Construction were instrumental in providing current and relevant information.
As with any good construction project, this text was started with an excellent foundation. I wish to especially acknowledge the contributions of the late Cameron Andres and the late Ronald Smith for constructing the foundation of this text from which they have allowed me to build. My sincere gratitude to all the people at Pearson for their expertise and unwavering effort over the years in the publishing of Principles and Practices of Commercial Construction, and a continuing thank you to the project management team and editors at Pearson, who kept the whole process running smoothly during the production of this edition. I would also like to thank the reviewers, Daniel Castro-Lacouture from the Georgia Institute of Technology; William Dean from The State University of New York, College of Technology at Alfred; and Jeff Guh from the University of Southern California for their review and comments that made the tenth edition improved.
Download Principles and practices of commercial construction PDF 
Author(s): W. Ronald Woods; Cameron K. Andres; Ronald C. Smith
Publisher: Pearson /Prentice Hall Education, Year: 2019
ISBN: 9780134704661,0134704665
Related More Books