| | |
| --- | --- |
| Book Name: | Psychoanalytic Readings of Hawthorne's Romances |
| Category: | A Special Books |
| Free Download: | Available |
Free Download Psychoanalytic Readings of Hawthorne's Romances: Narratives of Unconscious Crisis and Transformation PDF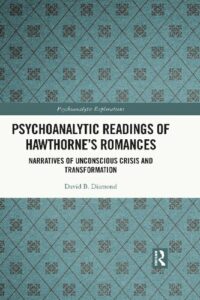 Book Description
This book does innovative psychoanalytic readings of Nathaniel Hawthorne's mature novels. It uses Freudian theory to show how Hawthorne's characters and their fates can be understood in new ways.
By critically examining scenes in which protagonists confront past traumas, Diamond underscores the transformative potential that Hawthorne attributes to confrontations with the unconscious. The psychoanalytic narrative technique is used to illuminate the psychological crises of the protagonists in The Scarlet Letter, The House of the Seven Gables, The Blithedale Romance, and The Marble Faun, showing the transformations they undergo to be central to our understanding of the trajectory and resolution of Hawthorne's romances.
The text will benefit researchers, academics, and educators interested in applied psychoanalysis, psychoanalytic technique, and Freud in particular. Since its conclusions challenge many currently held critical views, this volume is especially relevant to those interested in interdisciplinary literary studies, Hawthorne studies, 19th-century literature, and romanticism.
Table of contents :
Cover
Half Title
Series Page
Title Page
Copyright Page
Dedication
Contents
Acknowledgments
1. Introduction
2. The Transformations of Arthur Dimmesdale in The Scarlet Letter: "That self was gone!"
3. Holgrave's Transformation in The House of the Seven Gables: "The black moment became at once a blissful one"
4. Zenobia's Suicide in The Blithedale Romance: "But, all this while, we have been standing by Zenobia's grave"
5. Miriam's Transformation in The Marble Faun: "The tragic dignity of their hour of crime"
6. Hester's Return to Boston in The Scarlet Letter: "Her whole orb of life both before and after, was connected with this spot, as with the one point that gave it unity"
Afterword: Hawthorne Beyond the Couch
Index
About the Author
David B. Diamond is a psychoanalyst and psychiatrist in clinical practice. He was formerly an Assistant Professor of Psychiatry at Harvard Medical School and served as Director of Outpatient Psychiatry at Brigham and Women's Hospital, Boston, USA.
Psychoanalytic Readings of Hawthorne's Romances: Narratives of Unconscious Crisis and Transformation PDF
Author(s): David B. Diamond
Series: Psychoanalytic Explorations Series
Publisher: Routledge, Year: 2021
ISBN: 2021002082,9780367759094
Related More Books
See More POST On : A Special Books