Significance of Tests and Properties of Concrete and Concrete-Making Materials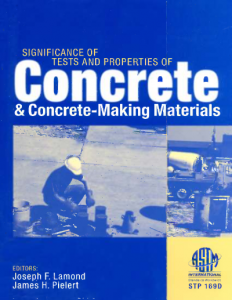 Significance of Tests and Properties of Concrete and Concrete-Making Materials (STP 169C) published in 1994.
That publication in turn replaced editions published in 1956, 1966, and 1978.
The present publication includes a number of new materials and test methods that have been developed, or materials that have increased in importance since the 1994 edition.
Two most useful additions are the chapters on slag as a cementitious material and self-consolidating concrete.
As in the previous editions, chapters have been authored by individuals selected on the basis of their knowledge of their subject areas,
and in most cases because of their participation in the development of pertinent specifications and test methods by ASTM Committee C09 on Concrete and Concrete Aggregates and, in some cases, ASTM Committee C01 on Cement.
The authors developed their chapters in conformance with general guidelines only. Each chapter has been reviewed and, where necessary, coordinated with chapters in which overlap of subject matter might occur.
This latest edition has been developed under the direction of the Executive Committee of ASTM Committee C09 by coeditors Joseph F. Lamond, Consulting Engineer, and James H. Pielert, Consultant, both members of Committee C09.
Get Paper Book: Significance of Tests and Properties of Concrete and Concrete-Making Materials
Book Description:
Reflects a decade of technological changes in concrete industry! The newest edition of this popular ASTM publication reflects the latest technology in concrete and concrete-making materials. Six sections cover: (1) General information on the nature of concrete, sampling, variability, and testing laboratories. A new chapter deals with modeling cement and concrete properties. (2) Properties of freshly mixed concrete. (3) Properties of hardened concrete. (4) Concrete aggregates—this section has been revised and the chapters are presented in the order that most concerns concrete users: grading, density, soundness, degradation resistance, petrographic examination, reactivity, and thermal properties. (5) Materials other than aggregates—the chapter on curing materials now reflects the current technology of materials applied to new concrete surfaces. The chapter on mineral admixtures has been separated into two chapters: supplementary cementitious materials and ground slag. (6) Specialized concretes—contains a new chapter on self-consolidating concrete.
Significance of Tests and Properties of Concrete and Concrete-Making Materials
Author(s): Joseph Lamond; James Peilert
Year: 2006
ISBN: 0803133677
Related Results : significance of tests and properties of concrete and concrete-making materials pdf,
See More POST On : Engineering Books