7 Habits Of Highly Effective People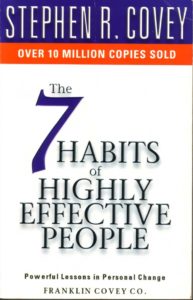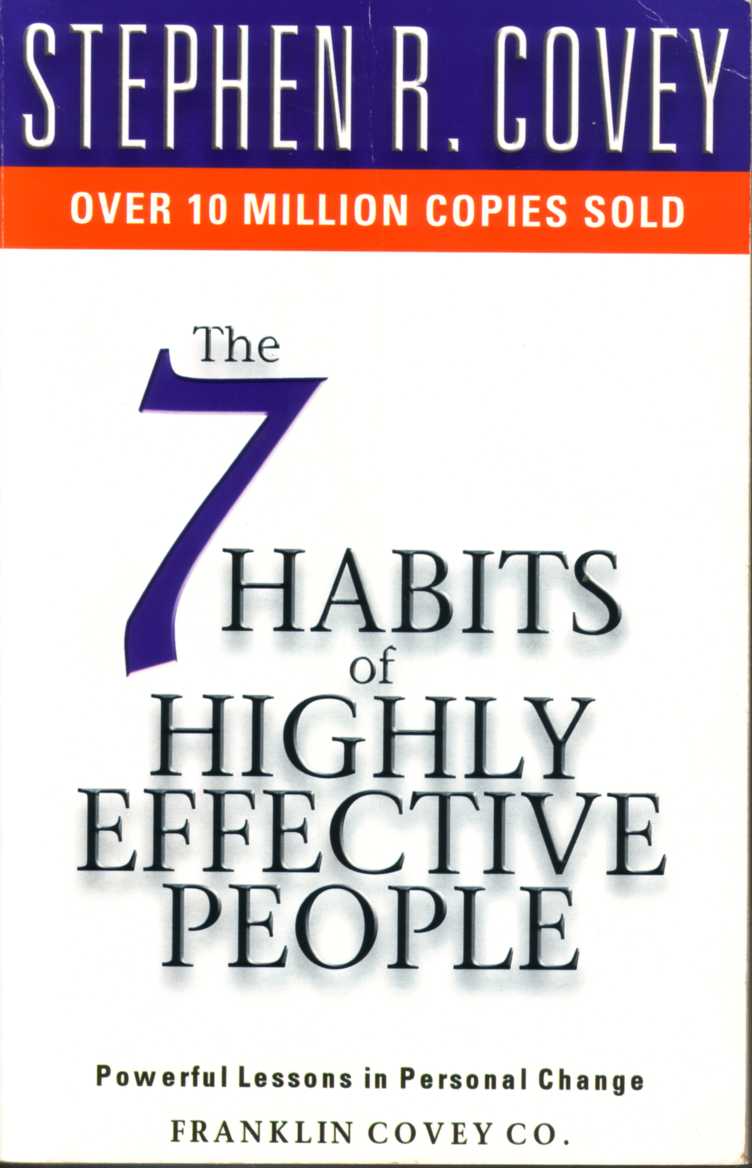 7 Habits of Highly Effective People by Stephen R. Covey
About the Author Stephen R. Covey
STEPHEN COVEY is cofounder and vice chairman of Franklin Covey, a global professional services firm. Acknowledged by Time Magazine as one of the 25 most influential Americans, Dr. Covey is the author of seven books including The 7 Habits of Highly Effective People, First Things First and Principle-Centred Leadership. Dr. Covey holds an undergraduate degree from the University of Utah, an MBA from Harvard and a Doctorate from Brigham Young University. He is the recipient of a large number of awards and recently founded the Covey Leadership Centre.
The 7 Habits as Shown in the Book:
Be Proactive.
Begin with the End in Mind.
Put First Things First.
Think Win/Win.
Seek First to Understand, Then to Be Understood.
Synergize.
Sharpen the Saw TM.
The 7 Habits…and what they will do to help your group (Summary)
Be Proactive Fosters courage to take risks and accept new challenges to achieve goals
Begin with the End in Mind Brings projects to completion and unites teams and organizations under a shared vision, mission, and purpose
Put First Things First Promotes getting the most important things done first and encourages direct effectiveness
Think WinWin Encourages conflict resolution and helps individuals seek mutual benefit, increasing group momentum
Seek First to Understand, Then to Be Understood Helps people understand problems, resulting in targeted solutions; and promotes better communications, leading to successful problem solving
Synergize Ensures greater "buyin" from team members and leverages the diversity of individuals to increase levels of success
Sharpen the Saw Promotes continuous improvements and safeguards against "burnout" and subsequent nonproductivity
Habit 1: Be Proactive or Personal Vision
Habit 2: Begin With The End In Mind or Personal Leadership
Habit 3: Put First Things First Principles or Personal Management
Habit 4: Think Win-Win
Habit 5: Seek First to Understand Then to be Understood
Habit 6: Synergize – Principles of Creative Cooperation
Habit 7: Principles of Balanced Self-Renewal
PaperBOOK Link from Amazon :
The 7 Habits of Highly Effective People ( English )
Ati Prabhavkari Logon ki 7 Aadtein
PDF eBook of 7 Habits of Highly Effective People by Stephen R. Covey