Robotics Modelling Planning and Control :: The fundamental and technological aspects are mainly concentrated in the first six chapters of the book and concern the theory of manipulator structures, including kinematics, statics and trajectory planning, and the technology of robot actuators, sensors and control units. The advanced aspects are dealt with in the subsequent six chapters and concern dynamics and motion control of robot manipulators, interaction with the environment using exteroceptive sensory data (force and vision), mobile robots and motion planning.
Robotics Modelling Planning and Control
Advanced Textbooks in Control and Signal Processing  by Bruno Siciliano, Lorenzo Sciavicco, Luigi Villani and Giuseppe Oriolo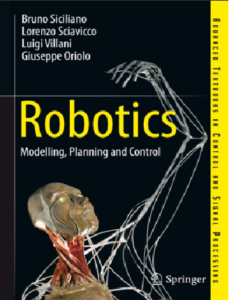 Book Details :
This book is the natural evolution of the previous text Modelling and Control of Robot Manipulators by the first two co-authors, published in 1995, and in 2000 with its second edition. The cut of the original textbook has been confirmed with the educational goal of blending the fundamental and techno- logical aspects with those advanced aspects, on a uniform track as regards arigorous formalism.
Book Contents :
Introduction
Kinematics
Differential Kinematics and Statics
Trajectory Planning
Actuators and Sensors
Control Architecture
Dynamics
Motion Control
Force Control
Visual Servoing
Mobile Robots
Motion Planning
Robot modeling and control book