| | |
| --- | --- |
| Book Name: | Telecommunications in Africa |
| Category: | Telecommunication Books |
| Free Download: | Available |
Free PDF Download Telecommunications in Africa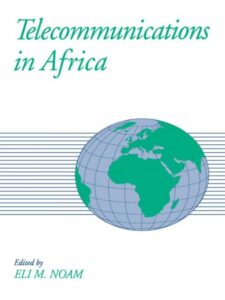 Book Description:
A modern telecommunications network is an essential infrastructure for the world's developing nations. The emergence of new technologies, the entrance of supra-national carriers, and deregulation in the telecommunications sector have resulted in the globalization of telecommunications and the opening of markets on every continent. Collecting the work of 19 expert contributors, this book comprehensively examines what African countries are doing to build their telecommunications capabilities.
Africa has historically lagged behind other regions in developing its telecommunications infrastructure, and the penetration rate for basic service is still relatively low. But as some African nations undergo restructuring, they have begun to open their networks to foreign investors and regional cooperative ventures to expand basic and advanced telecommunications services. The contributors discuss the uneven pace of economic, regulatory, and social change among African nations as state telecommunications monopolies maintain their hold in some countries and give way to privatization in others. Analyzing the political and economic changes of the 1990s, the contributors provide clues about how Africa can shake off decades of inertia and prepare to take part in the global information economy.
Edited by an internationally recognized authority on telecommunications, this volume is the latest in a series that surveys telecommunications in the major regions of the world. Thorough and accessible, it is a valuable resource for students and scholars in the areas of communications, economics, regulatory law, telecommunications engineering, and African studies, as well as telecommunications professionals and policymakers.
Telecommunications in Africa PDF
Author(s): Eli M. Noam (editor)
Series: Global communications
Publisher: Oxford University Press, Year: 1999
ISBN: 0195102010,9780195102017
Related More Books