| | |
| --- | --- |
| Book Name: | The Heat of the Day by Elizabeth Bowen |
| Category: | A Special Books |
| Language: | English |
| Format: | PDF |
| Free Download: | Available |
Free Download The Heat of the Day PDF Book by Elizabeth Bowen 
The Heat of the Day is a novel by Elizabeth Bowen that was first published in 1949. It tells the story of a woman named Stella Rodney, who is trying to navigate the complex emotional landscape of love and loyalty during World War II in London.
The novel follows Stella as she struggles to come to terms with her feelings for two men – her lover Robert, who is a suspected spy, and her former flame Harrison, who is working for the government. As the war intensifies, Stella must decide where her loyalties lie and whether she can trust the men in her life.
The Heat of the Day is a haunting and evocative tale of love and betrayal set against the backdrop of a city under attack. It is a beautifully written novel that explores relationships' complex and often confusing nature and the power of emotion.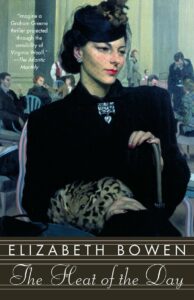 Book Description:
In The Heat of the Day, Elizabeth Bowen brilliantly recreates London's tense and dangerous atmosphere during the bombing raids of World War II.
Many people have fled the city, and those who stayed behind find themselves thrown together in a strange intimacy born of crisis. Stella Rodney is one of those who chose to stay. But for her, the sense of impending catastrophe becomes acutely personal when she discovers that her lover, Robert, is suspected of selling secrets to the enemy, and that the man who is following him wants Stella herself as the price of his silence. Caught between these two men, not sure whom to believe, Stella finds her world crumbling as she learns how little we can truly know of those around us.
Download The Heat of the Day Free 
Author(s): Elizabeth Bowen
Publisher: Anchor, Year: 2002
ISBN: 0385721285,9780385721288
Related More Books
See More POST On : A Special Books