The Secret of Success by William Walker Atkinson 
William Walker Atkinson was a man who knew that there was a secret to success. He was successful in his life and wanted to share that secret with others. In this book, The Secret of Success, Atkinson shares his secret with the world.
In this book, Atkinson talks about how many people search for success but do not know how to find it. He believes that there is no such thing as luck or chance because if you put yourself in a position for your dreams to come true, they will happen.
Atkinson believes that everyone has the potential to achieve great things and that everyone deserves to achieve their dreams no matter what they look like or where they come from.
The Secret of Success is an inspirational book that shows how we can achieve our goals and dreams by working hard and putting ourselves in positions where our dreams can come true.
The Secret of Success book by William Walker Atkinson PDF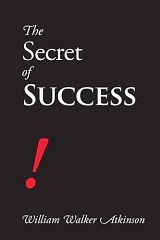 Book Description: 
A Course of Nine Lessons on the Subject of the Application of the Latent Powers of the Individual Toward Attainment of Success in Life. Contents: Secret of Success; The Individual; Spiritedness; Your latent powers; Soul force; Powers of desire; Law of attraction; Personal magnetism; Attractive personality.
This open-access book is one of the most influential books written on the subject of success, first published in 1908 by William Walker Atkinson. While everyone's definition of success may vary, the common point is achieving everyone's specific goals. The keypoint of this book is "personality."
Each of us is an Individual – an "I" – unlike any other "I" in the universe, so far as personal expression is concerned. And to the extent that we manifest and unleash the power of this "me," we are great, strong, and successful. We all "have it in us" – it's up to us to bring it out in Expressions. And this Personal Expression is at the heart of "The Secret to Success". And that's why we use this term – and that's what we'll tell you in this pamphlet. You will have to pay to learn this "secret."
Secret of Success
Author(s): William Walker Atkinson
Year: 1996
ISBN: 1564596478,9781564596475
See More POST On : A Special Books