| | |
| --- | --- |
| Book Name: | Exam Preparatory Manual for Undergraduates Pathology |
| Category: | Medical Books |
| Language: | English |
| Format: | PDF |
| Free Download: | Available |
Free Download Exam Preparatory Manual for Undergraduates Pathology PDF Book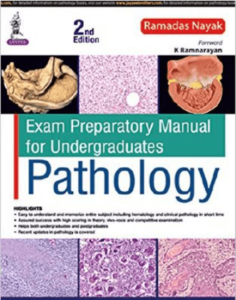 Book Contents : 
Chapter-01 Cellular Responses to Stress and Injury.
Chapter-02 Acute Inflammation.
Chapter-03 Wound Healing.
Chapter-04 Chronic Inflammation.
Chapter-05 Hemodynamic Disorders, Thromboembolism, and Shock.
Chapter-06 Diseases of the Immune System.
Chapter-07 Neoplasia.
Chapter-08 Genetic Disorders.
Chapter-09 Vascular Disorders.
Chapter-10 Heart Disorders.
Chapter-11 Lung Disorders.
Chapter-12 Oral Cavity and Salivary Gland Disorders.
Chapter-13 Gastrointestinal Tract Disorders.
Chapter-14 Hepatobiliary Disorders.
Chapter-15 Pancreatic Disorders.
Chapter-16 Kidney and Urinary Tract Disorders.
Chapter-17 Male Genital Tract Disorders.
Chapter-18 Female Genital Tract Disorders.
Chapter-19 Breast Disorders.
Chapter-20 Endocrine Disorders.
Chapter-21 Skin Disorders.
Chapter-22 Bones and Joints Disorders.
Chapter-23 Central Nervous System Disorders.
Appendices.
Bibliography.
Index.
Section 1—General pathology: It overviews the basic pathologic mechanisms underlying diseases, including cellular adaptations, inflammation, wound healing, chronic inflammation, hemodynamic disorders, immunological disorders, neoplasia, genetics, and nutritional disorders.
Section 2—Hematology and clinical pathology: It consists of the disorder of red cells and white cells, and disorders of hemostasis and clinical pathology essential for undergraduate students. This was an additional section not presented in the book's first edition. With its introduction, this book becomes a complete exam manual for all students. However, students are requested to go through the second edition of the book Essentials in Hematology and Clinical Pathology, authored by Dr. Ramadas Nayak and Dr. Sharada Rai, for detailed knowledge of hematology and clinical pathology.
Section 3—Systemic pathology: It deals with systemic pathology with chapters devoted to diseases of various organ systems, including vascular, cardiac, respiratory, gastrointestinal, liver and biliary tract, pancreas, kidney, male and female genital tract, bones, endocrines, skin, and central nervous system.
Download Exam Preparatory Manual for Undergraduates Pathology PDF 
Related More Books
See More POST On : Medical Books