| | |
| --- | --- |
| Book Name: | Geopolymers as Sustainable Surface Concrete Repair Materials |
| Category: | Civil Engineering Books |
| Language: | English |
| Format: | PDF |
| Free Download: | Available |
Free Download Geopolymers as Sustainable Surface Concrete Repair Materials PDF Book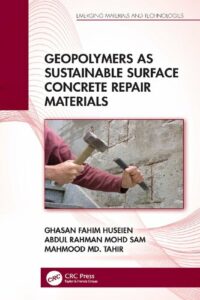 Book Description:
The progressive deterioration of concrete surface structures is a major concern in construction engineering that requires precise repair. While a number of repair materials have been developed, geopolymer mortars have been identified as potentially superior and environmentally friendly high-performance construction materials, as they are synthesized by selectively combining waste materials containing alumina and silica compounds which are further activated by a strongly alkaline solution. Geopolymers as Sustainable Surface Concrete Repair Materials offers readers insights into the synthesis, properties, benefits, and applications of geopolymer-based materials for concrete repair.
• Discusses manufacturing and design methods of geopolymer-based materials
• Assesses mechanical strength and durability of geopolymer-based materials under different aggressive environmental conditions
• Characterizes the microstructure of these materials using XRD, SEM, EDX, TGA, DTG and FTIR measurements
• Describes the application of geopolymer-based materials as surface repair materials
• Compares environmental and cost benefits against those of traditional OPC and commercial repair materials
This book is written for researchers and professional engineers working with concrete materials, including civil and materials engineers.
Download Geopolymers as Sustainable Surface Concrete Repair Materials PDF Free 
Author(s): Ghasan Fahim Huseien, Abdul Rahman Mohd Sam, Mahmood Md. Tahir
Series: Emerging Materials and Technologies
Publisher: CRC Press, Year: 2022
ISBN: 9781032002996
Related More Books