| | |
| --- | --- |
| Book Name: | [PDF] Handbook of Lasers by Marvin J Weber |
| Category: | Electronics Books ( ECE ) |
| Language: | English |
| Format: | PDF |
| Free Download: | Available |
Handbook of Lasers by Marvin J Weber :: Now come to the topics which is discussed in the sections. Section 1 includes, Crystalline paramagnetic ion lasers, use of host crystals for transition metal laser ions and lanthanide laser ions, Actinide ion lasers, self frequency double lasers, transition metal ion lasers, lanthanide ion laser, Glass Lasers, Glass amplifier, Commercial glass laser, solid state dye lasers, color center lasers, semiconductor lasers, Polymer lasers, Solid state excimer lasers, Raman, Brillouin, and Soliton Lasers. Section 2, which is mainly focused on LIQUID LASERS. The main discussed topics in the section is Liquid Organic Dye Lasers, Rare Earth Liquid Lasers, Liquid Polymer Lasers, Liquid Excimer Lasers, In Section 3 the discussed topics is GAS LASERS. The topics focused here is Neutral Atom Gas Lasers, Ionized Gas Lasers, Molecular Gas Lasers, Far Infrared and Millimeter Wave Gas Lasers, Commercial Gas Lasers. In Section 4 some other types of lasers are discussed. They are: Extreme Ultraviolet and Soft X-Ray Lasers, Free Electron Lasers, Nuclear Pumped Lasers, Natural Lasers, Inversionless Lasers, Amplification of Core-Valence Luminescence.
Book Description:
• Comprehensive data for all lasers in all media
• More than 15,000 laser wavelengths, from millimeter waves to soft X-rays
• Extensive references to the primary literature
• Subsections on commercially available lasers
• Coverage of X-ray lasers, free electron lasers, and nuclear-pumped lasers
Lasers continue to be an amazingly robust field of activity. Anyone seeking a photon source is now confronted with an enormous number of possible lasers and laser wavelengths to choose from but no single, comprehensive source to help them make that choice.
The Handbook of Lasers provides an authoritative compilation of lasers, their properties, and original references in a readily accessible form. Organized by lasing media-solids, liquids, and gases-each section is subdivided into distinct laser types. Each type carries a brief description, followed by tables listing the lasing element or medium, host, lasing transition and wavelength, operating properties, primary literature citations, and, for broadband lasers, reported tuning ranges.
The importance and value of the Handbook of Lasers cannot be overstated. Serving as both an archive and as an indicator of emerging trends, it reflects the state of knowledge and development in the field, provides a rapid means of obtaining reference data, and offers a pathway to the literature. It contains data useful for comparison with predictions and for developing models of processes, and may reveal fundamental inconsistencies or conflicts in the data.
Handbook of Lasers by Marvin J Weber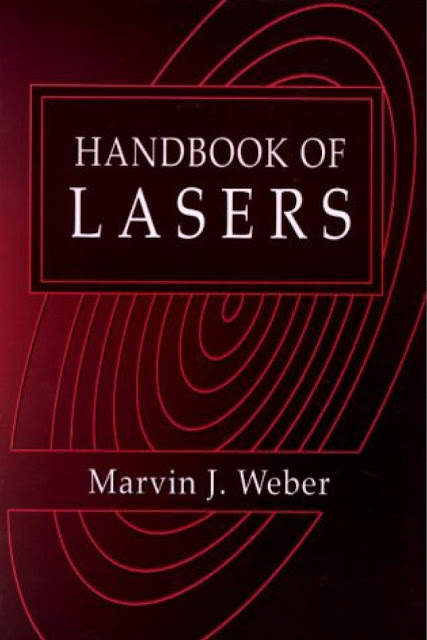 This book contains four sections.
These are:
Section 1: Solid state lasers
Section 2: Liquid Lasers
Section 3: Gas Lasers
Section 4: Other Lasers
Handbook of lasers PDF
Author(s): Marvin J. Weber
Series: Laser & optical science & technology
Publisher: CRC Press, Year: 2000
ISBN: 0849335094,9780849335099,9781420050172
Book PDF
Related Results : handbook of distributed feedback laser diodes pdf,handbook of laser materials processing pdf,handbook of laser pdf,handbook of laser science and technology pdf,handbook of laser technology and applications pdfhandbook of laser wavelengths pdf,
Related More Books
See More POST On : Engineering Books