TEXTBOOK OF ENGINEERING DRAWING BY K. VENKATA REDDY
SECOND EDITION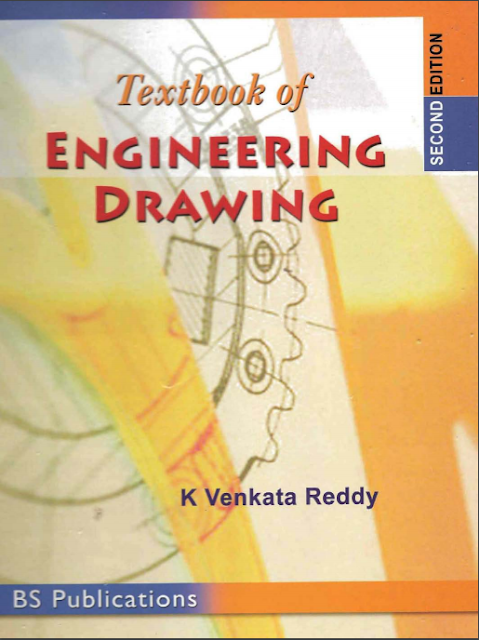 The subject in general is designed to impart the following skills.
Engineering drawing is a two dimensional representation of three dimensional objects. In general, it provides necessary information about the shape, size, surface quality, material, manufacturing process, etc., of the object.
1. Ability to read and prepare engineering drawings.
2. Ability to make free – hand sketching of objects.
3. Power to imagine, analyse and communicate, and
4. Capacity to understand other subjects.
Book Contents
Preface.
Drawing instruments and accessories.
Lettering and dimensioning practices.
Scales.
Geometrical constructions.
Orthographic projections.
Projection of solids.
Development of surfaces.
Intersection of surfaces.
Isometric projection.
Oblique and perspective projections.
Conversion of Isometric views to orthographic views and vice versa.
Sections of solids.
Freehand sketching.
Computer Aided Design and Drawing (CADD).
Worksheets
Annexure
Objective Type Questions. Answers.
Model Question Papers.
Contents of Textbook of Engineering Drawing:
CHAPTER-1
Drawing Instruments and Accessories 1.1-1.5
1.1 Introduction, 1.1
1.2 Role of Engineering Drawing, 1.1
1.3 Drawing Instrument and Aids, 1.1
1.3.1 Drawing Board, 1.2
1.3.2 Mini-Draughter, 1.2
1.3.3 Instrument Box, 1.2
1.3.4 Set of Scales, 1.3
1.3.5 French Curves, 1.4
1.3.6 Templates, 1.4
1.3.7 Pencils, 1.4
CHAPTER- 2
Lettering and Dimensioning Practices 2.1-2.25
2.1 Introduction. 2.1
2.2 Drawing Sheet, 2.1
2.2.1 Title Block, 2.2
2.2.2 Drawing Sheet Layout (Is 10711 : 2001), 2.3
2.2.3 Folding of Drawing Sheets, 2.3
2.2.4 Lines (IS 10714 (Part 20): 2001 and SP 46: 2003), 2.4
CHAPTER- 3
Scales 3.1-3.12
3.1 Introduction, 3.1
3.2 Reducing and Enlarging Scales, 3.1
3.3 Representative Fraction, 3.2
3.4 Types of Scales, 3.2
3.4.1 Plain Scales, 3.2
3.4.2 Diagonal Scales, 3.5
3.4.3 Vernier Scales, 3.9
CHAPTER-4
Geometrical Constructions 4.1-4.51
4.1 Introduction, 4.1
4.2 Conic Sections 4.12
4.2.1 Circle, 4.13
4.2.2 Ellipse, 4.13
4.2.3 Parabola, 4.13
4.2.4 Hyperbola, 4.13
4.2.5 Conic Sections as Loci of a Moving Point, 4.13
ENGINEERING DRAWING BY K. VENKATA REDDY PDF