| | |
| --- | --- |
| Book Name: | [PDF] How to Write a CV That Really Works |
| Category: | Mechanical Books |
| Free Download: | Available |
How to Write a CV That Really Works by Paul Mcgee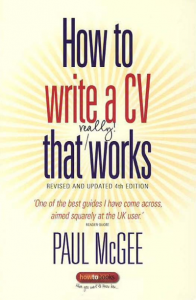 There are not many certainties in life – death and taxes are probably the main ones. Now there is another. At some time, we are all likely to need a Curriculum Vitae, or CV for short.
Whether we're leaving school or college, wanting a career change, experiencing redundancy or returning from a career break, our first priority is to get a CV written.
Not only is a CV necessary for the benefit of the intended reader, but as this book will illustrate, compiling one can provide a great insight for you personally.
Rather than relying on someone who doesn't know you to write your 'personal sales brochure', this book gives you a practical step-by-step approach to creating your own.
I hope for once you will value your Dad's advice! Finally, I hope this book contributes in some way to the future success of all its readers. Good luck.
Download Free PDF Book : How to Write a CV That Really Works by Paul Mcgee
Get Paper Book : How to Write a CV That Really Works
Book Description:
To get the job you want you need a CV that really does the job. This practical, bestselling book will show you exactly how to present your skills, identify your achievements and communicate these successfully. You will learn to focus on your strengths and find out which skills to highlight for which kind of job. The author suggests different styles and uses for a CV, showing how to get the most from your most powerful marketing tool, whatever your background or current situation. And you will find invaluable advice on what to do once you've got an interview.
How to Write a CV That Really Works: A Concise, Thorough and Comprehensive Guide to Writing an Effective Resume PDF
Author(s): Paul McGee
Publisher: How to Books, Year: 2009
ISBN: 1848033575,9781848033573
Related More Books
See More POST On : Engineering Books