101 Great Answers to the Toughest Interview Questions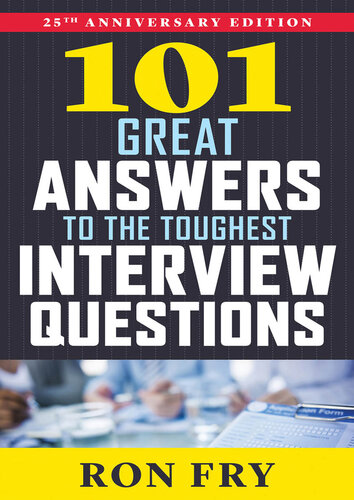 Book Description:
Updated for today's job market, the classic interview prep guide helps you say the right words and get the job you want.
No matter how good you look, how much research you've done, or how perfectly your qualifications match the job description, if you're not prepared with great answers to the most challenging interview questions, you won't get the job.
101 Great Answers to the Toughest Interview Questions is a manual that will help you home in on precisely what the interviewer is trying to learn . . . with every question they ask. If you've never done well on interviews, never even been on a job interview, or want to make sure a lousy interview doesn't cost you a job you want, Ron Fry will help you get that job–as he has helped millions of people nationwide and throughout the world.
This twenty-fifth-anniversary edition of 101 Great Answers to the Toughest Interview Questions is thoroughly updated to reflect the realities of today's job market. Whatever your age and experience, whether you are seeking your very first job or finally breaking into the executive office, this is the one book you need to get that job.
Tough interview questions are inevitable in today's competitive job market. Ron Fry's 101 Great Answers to the Toughest Interview Questions has helped more than 500,000 job seekers pinpoint what employers are asking with every question and, more importantly: what they want to hear in response. This no-nonsense guide will prepare you to leverage the trickiest questions to your advantage. Learn how to deal gracefully with complicated case interviews, various personality types, and even potentially illegal questions – all while avoiding common mistakes. Get the expert answers employers are looking for!
As a recruiter, I would recommend this book to any candidate who needs advice on how to be interviewed.101 Great Answers to the Toughest Interview Questions provides a detailed, step-by-step process that any candidate, experienced or novice, can use to prepare for an interview. Candidates are told to design a series of worksheets documenting their experience and formulate answers to predictable but challenging questions such as "Tell me about yourself," as well as the dreaded "What would you change about yourself?" The idea is to prepare the best possible response, not as a way to fake it, but as a way to avoid mistakes when one is on the spot. The book contains an example of a good response for each question and pinpoints the many areas that might trip up a job seeker. Unlike many books for job seekers, this one provides solutions for experienced and inexperienced candidates. The evaluation technique goes beyond most websites' vague common sense advice. (Be on time, be positive, and use spell-check. tell them your most significant fault is that you work too hard…) The book includes good information on phone screens. Given the large number of resumes that companies receive, phone screens are a routine step in the process. This book gives the experienced candidate a way to prepare for a phone interview where things like eye contact are impossible. Fry advises candidates to be honest and to present themselves in the best possible way. What could be better than that?
Table of contents :
IntroductionYou Can Get There From Here……Page 3
The Product Is You……Page 6
Take a Walk on the Wild Side……Page 21
You're Not Facing Letterman……Page 31
Why'd You Major in Astrophysics and Minor in Theater?…… Page 45
School, Schmool. Tell Me About Your Work Experience……Page 54
Let's Focus on Some Specifics……Page 72
Let's Look at Your Current (Last) Job, Shall We?…… Page 81
So Why Us?…… Page 94
Innocent? Hardly. Illegal? Maybe…….Page 110
That's a Wrap!…… Page 124
101 Great Answers to the Toughest Interview Questions PDF
Author(s): Ron Fry
Publisher: Course Technology, Year: 2009
ISBN: 9781598638530
Download Sixth Latest Edition Free PDF Book
See More POST On : A Special Books