Free PDF Download Advanced Mechatronics Solutions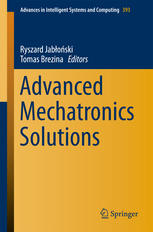 Book Description:
Focusing on the most rapidly changing areas of mechatronics, this book discusses signals and system control, mechatronic products, metrology and nanometrology, automatic control and robotics, biomedical engineering, photonics, and the design, manufacturing, and testing of MEMS. It is reflected in the list of contributors, which includes an international group of 302 leading researchers representing 12 countries.
The book is intended for use in academic, government, and industry R&D departments as an indispensable reference tool for the years to come. This volume can serve a global community as the definitive reference source in mechatronics. The book comprises carefully selected 93 contributions presented at the 11th International Conference on Mechatronics 2015, organized by the Faculty of Mechatronics, Warsaw University of Technology, on September 21–23, 2015, in Warsaw, Poland.
Advanced Mechatronics Solutions PDF
Author(s): Ryszard Jabłoński, Tomas Brezina (eds.)
Series: Advances in Intelligent Systems and Computing 393
Publisher: Springer International Publishing, Year: 2016
ISBN: 978-3-319-23921-7,978-3-319-23923-1