AI Art: Machine Visions and Warped Dreams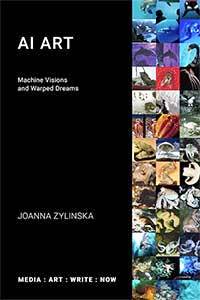 Description of Book
Can computers be creative? Is algorithmic art just a form of Candy Crush? Stepping through the smoke and mirrors around computing, robotics and artificial intelligence, Joanna Zylinska argues that to understand the promise of AI for the creative realms, we need to go beyond the realm of aesthetics. America. Instead, we need to address the role and place of humans in today's technical setup – including issues related to labor, robotics and last but not least, excellence. strains.
Offering a critique of the sociopolitical underpinnings of AI, AI Art: Machine Visions and Warped Dreams raises profound questions about today's artistic and creative conditions.
The book critically examines works of art using AI, whether in the form of visual style transmissions, algorithmic experiences, or critical commentary. It also interacts with their predecessors, including robot art and cyber art.
AI Art includes a project from Zylinska's own art work titled "View from the Window", which explores human and non-human forms of intelligence, perception, and action. The book ends with speculations about future art – and the future of art.
About Author
Joanna Zylinska is an ImageNet Roulette writer, speaker, artist, curator and algorithmic "mediator". She is currently Professor of Media and New Media at Goldsmiths, University of London.
AI Art: Machine Visions and Warped Dreams (Media: Art: Write: Now)
Author(s): Joanna Zylinska
Series: Media: Art: Write: Now
Publisher: Open Humanities Press CIC, Year: 2020
ISBN: 1785420852,9781785420856