Drupal 7 Views Cookbook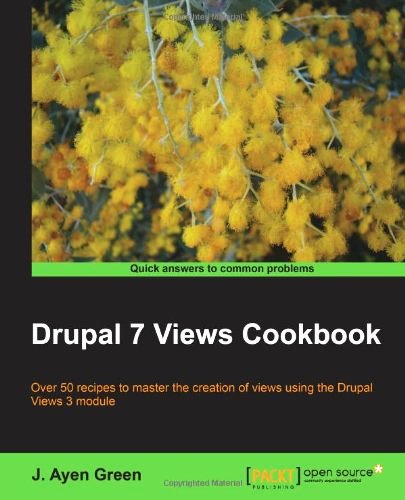 Book Description: 
Over 50 recipes to master the creation of Views using the Drupal Views 3 module!
Brand new recipe examples using the all-new Views 3 UI
A wide variety, including multi-display and programmatic views
Easy-to-follow recipes with plenty of screenshots and demonstrations
Book In Detail
The Drupal content management system is purposely created with a 'light footprint', leaving it to the user or developer to add wanted features. Views is the #1 add-on module for Drupal and enable you to filter, select and present your content in ways that are more meaningful to your site visitors.
Drupal 7 Views Cookbook allows you to bypass most of the Views learning curve and quickly take advantage of the capabilities of the Views module through step-by-step instructions for quickly developing dozens of useful views.
Starting with a brief introduction to Views, Drupal 7 Views Cookbook takes you through recipes for elementary views such as displaying randomly selected content, to intermediate views such as customizing links, to advanced views using multiple displays. Along the way there are recipes for theming views, creating a programmatic view and a view handler, administering views, and finally, using some other modules related to the Views module. Recipes are standalone, so pick them in any order!
Don't limit your site with dull content presentation. Empower your site visitors with the recipes that Drupal 7 Views Cookbook delivers!
What you will learn from this book
Present menu choices for categorized subsets of your content
Create blocks containing interesting lists or randomly selected images
Link multiple content types to provide more complete information
Display complementary content in additional displays
Design a desktop-like page driven by user input
Deliver a view from inside a custom module
Manipulate the templates to add pizzazz to your views
Administer your views with confidence
Approach
This is a cookbook containing plenty of easy-to-follow practical recipes with screenshots that will help you in mastering the Drupal Views module.
Who this book is written for
Drupal 7 Views Cookbook is for developers or technically proficient users who are fairly comfortable with the concepts behind websites and the Drupal environment.
Drupal 7 Views Cookbook
Author(s): J. Ayen Green
Publisher: Packt Publishing, Year: 2012
ISBN: 1849514348,9781849514347
Drupal 7 Views Cookbook PDF