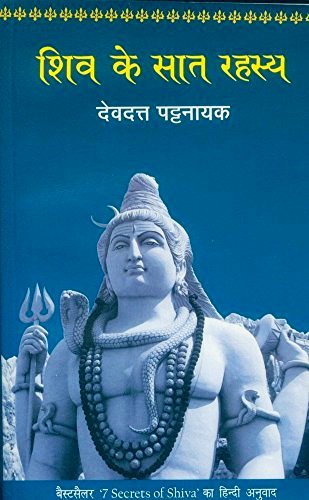 Info:
Shiv Ke Saat Rahasya by Devdutt Pattanaik (Hindi)
This ebook is from Rajpal and Sons, a 103 year-old publishing house headquartered in Delhi. Rajpal and Sons publishes books in English and Hindi languages, in non-fiction, fiction, classic and contemporary literature, and children categories.
देवदत्त पटनायक द्वारा शिव के सात रहस्य पुस्तक पीडीऍफ़
7 Secrets Of Shiva PDF book By Devdutt Pattanaik in Hindi
शिव के सात रहस्य...
प्रस्तुत हैं पुस्तक के कुछ अंश हिन्दुओं के अनगिनत देवी-देवताओं में से शिव सबसे अधिक लोकप्रिय हैं। महादेव के नाम से भी जाने जानेवाले शिव, विष्णु और ब्रह्मा के साथ हिन्दू देवताओं के त्रिमूर्ती माने जाते हैं। शिव के अनेक रूप हैं : कहीं तो वह कैलाश पर्वत की बर्फ़ीली चोटी पर बैठे अपने पर नियंत्रण रखनेवाले एक ब्रम्हचारी योगी हैं जो दुनिया का विनाश करने की क्षमता रखते हैं तो दूसरी ओर अपनी पत्नी और पुत्रों के साथ गृहस्थ आश्रम का आनन्द भोगते हुए गृहस्थी हैं। इनमें से कौन-सा है शिव का वास्तविक रूप ? माथे पर तीसरी आँख, गर्दन में सर्प, शीश पर अर्द्धचन्द्र, केशों से बहती गंगा, हाथों में त्रिशूल और डमरू-इन सब प्रतीकों का क्या अर्थ है ? शिव के अनेक रूप और प्रतीकों के पीछे छिपे हैं हमारे पौराणिक अतीत के अनेक रहस्य जिनमें से सात को समझने का प्रयास इस पुस्तक में किया गया है। देवदत्त पट्टनायक पौराणिक विषयों के जाने माने विशेषज्ञ हैं। पौराणिक कहानियों, संस्कारों और रीति-रिवाज़ों का हमारी आधुनिक ज़िन्दगी में क्या महत्त्व है, इस विषय पर वह लिखते हैं और जगह-जगह व्याख्यान भी देते हैं। इनकी पन्द्रह से अधिक पुस्तकें प्रकाशित हो चुकी हैं और टीवी पर इनका कार्यक्रम भी दिखाया जाता है।
Download
Download
See More POST On : A Special Books