Essential Reagents for Organic Synthesis by Fuchs, Charette, Rovis and W. Bode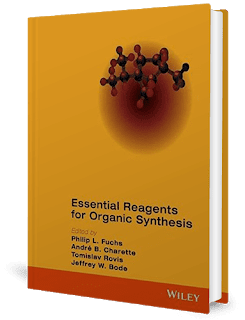 Book Description:
From Boron Trifluoride to Zinc, the 52 most widely used reagents in organic synthesis are described in this unique desktop reference for every organic chemist. The list of reagents contains classics such as N-Bromosuccinimide (NBS) and Trifluoromethanesulfonic Acid side by side with recently developed ones like Pinacolborane and Tetra-n-propylammonium Perruthenate (TPAP).
For each reagent, a concise article provides a brief description of all important reactions for which the reagent is being used, including yields and reaction conditions, an overview of the physical properties of the reagent, its storage conditions, safe handling, laboratory synthesis and purification methods. Advantages and disadvantages of the reagent compared to alternative synthesis methods are also discussed.
Reagents have been hand-picked from among the 5000 reagents contained in EROS, the Encyclopedia of Reagents for Organic Synthesis. Every organic chemist should be familiar with these key reagents that can make almost every reaction work
| | |
| --- | --- |
| Title: | Essential Reagents for Organic Synthesis |
| Editor: | Philip L. Fuchs, André B. Charette, Tomislav Rovis, Jeffrey W. Bode |
| Edition: | 1st |
| Publisher: | Wiley Publications |
| Length: | 639 pages |
| Size: | 7.24 MB |
| Language: | English |
Essential reagents for organic synthesis
Author(s): Bode, Jeffrey W.; Charette, André B.; Fuchs, Philip L.; Rovis, Tomislav
Publisher: John Wiley & Sons, Year: 2016
ISBN: 1119278309