Firewalls Complete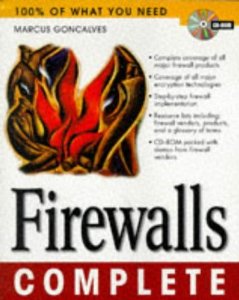 The biggest problem on the Internet is security. The easiest way to keep information safe is through firewalls. This book provides all of the information needed to install and maintain firewalls. 100% of what you need to install and maintain firewalls. Covers major firewall technologies and brands-advantages and disadvantages, what to watch for, who to avoid, and what to look for in firewall products. CD contains demos and evaluations of firewall products from all of the major vendors. NCSA-National Computer Security Association blessed them. A firewall blueprint helps readers design their firewall.
Book Description
What's the best way to ensure Internet security? With firewalls. And the best way to learn firewall installation and maintenance from A to Z? This info-packed guide covers virtually all firewall techniques, technologies, and brands – and even includes a blueprint for designing your own.
This book gives you 100% of what you need to deliver fully functional applications quickly. You get complete technical issues coverage from experts who understand the problems you must solve.
About the Authors
Marcus Goncalves is a System Manager for Process Software Corp., one of the leaders in Web server technologies and TCP/IP solutions. He has taught workshops and seminars on information systems and Internet security in the U.S. and internationally.
Firewalls Complete PDF
Author(s): Marcus Goncalves
Series: Complete Series
Publisher: McGraw-Hill Osborne Media, Year: 1998
ISBN: 9780070246454