Getting Started with Flex 4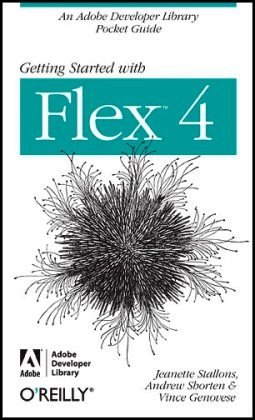 Book Description:
Find out what is possible with the latest version of Flash Builder and Flex. This hands-on guide helps you dive into the Adobe Flash platform – through a series of quick, step-by-step tutorials, you'll learn the process of creating, debugging and deploying a complete Internet application with Flex 4. Each tutorial includes complete code samples and pre-built Flex components. Follow the tutorials in sequence or just skip to the areas that interest you.
Ideal for experienced developers with or without Flex experience, Getting Started with Flex 4 shows you how to develop your existing skills. You will quickly discover how easy RIA development can be.
Create a Flex application that retrieves, views, and edits database records
Easily add, update and delete data in the database
Test and debug the app
Deploy your Flex application on a web server
Change the look of the app with styles and skins
Use Flex components to add charts and graphs
"Alaric and Elijah do a great job guiding a novice Flex developer through the myriad of components this hugely popular framework has to offer. Flex newbies will find it worth reading." –Jodie O'Rourke, Adobe Certified Expert (Flash Platform) and Community Leader Community Professional, Adobe User Groups Program
Getting Started with Flex 4: An Adobe Developer Library Pocket Guide
Author(s): Jeanette Stallons, Andrew Shorten, Vince Genovese
Publisher: O'Reilly Media, Year: 2010
ISBN: 978-0-59680-411-4