Occupational Outlook Handbook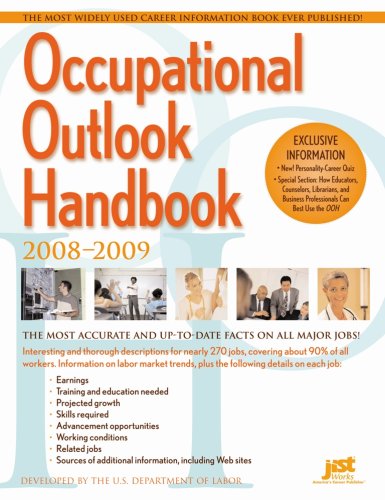 Book Description:
Occupational Outlook Handbook, 2008-2009 (OOH), features well-written, interesting descriptions for nearly 270 significant jobs in the U.S. and summary information on additional jobs.
For each job, the book discusses the nature of the work, working conditions, job outlook, training and education needed, earnings, related occupations, and additional information sources, including Web sites. Packed with practical, current information, the OOH is an invaluable resource for anyone doing career research, making career decisions, writing resumes, and preparing for interviews.
JIST offers two exclusive bonus sections in this comprehensive career reference, known for the timely and accurate publishing of this resource and its rock-bottom price. Brand new to this edition of the OOH is the Personality-Career Quiz, which helps readers match themselves to the OOH jobs. The quiz is based on the six personality types-Realistic, Investigative, Artistic, Social, Enterprising, and Conventional.
Table of contents :
Introduction……Page 4
Contents……Page 6
Exclusive Bonus Chapter 1: The Personality-Career Quiz: Match Your Personality to OOH Jobs……Page 10
Exclusive Bonus Chapter 2: How Educators, Counselors, Librarians, and Business Professionals Can Best Use the OOH……Page 17
Tomorrow's Jobs……Page 26
Sources of Education and Training……Page 37
Finding and Applying for Jobs and Evaluating Offers……Page 42
Occupational Information Included in the Handbook……Page 47
Management and Business and Financial Operations Occupations……Page 51
Professional and Related Occupations……Page 136
Service Occupations……Page 410
Sales and Related Occupations……Page 479
Office and Administrative Support Occupations……Page 512
Farming, Fishing, and Forestry Occupations……Page 575
Construction Trades and Related Workers……Page 584
Installation, Maintenance, and Repair Occupations……Page 636
Production Occupations……Page 684
Transportation and Material Moving Occupations……Page 741
Job Opportunities in the Armed Forces……Page 767
Occupations Not Studied in Detail……Page 775
Assumptions and Methods Used in Preparing Employment Projections……Page 789
Occupational Information NetworkCoverage……Page 791
Index……Page 799
Occupational Outlook Handbook, 2008-2009 (Jist Works)
Author(s): U. S. Department of Labor
Series: Occupational Outlook Handbook Jist Works
Publisher: JIST Works, Year: 2008
ISBN: 9781593575137,1593575130