Civil Engineering Project Management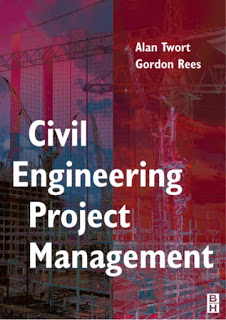 Civil Engineering Project Management Books for Most civil engineering construction projects are completed to time and budget but few get publicity for it. More often building projects are reported as exceeding time or budget because a building has to cater for the diverse needs of the many users of the building which can be difficult to forecast or may change as construction proceeds. In civil engineering the principal hazards come from the need to deal with below ground conditions, make structures out of re-assembled soils or rocks, and to cater for the forces of impounded or flowing water. The construction of roads, railways, tunnels, bridges, pipelines, dams, harbours, canals and river training measures, flood and sea defences, must all be tailored to the conditions found on site as construction proceeds because it is not possible to foresee such conditions in every detail beforehand.
As a result the successful management of a civil engineering project depends upon use of an appropriate contract for construction; the judgements of the civil engineer in charge and his team of engineering advisers; the need to arrange for supervision of the work of construction as it proceeds, and on the competence of the contractor engaged to build the works and his engineers and tradesmen.
Book Contents
1.         The development of construction procedures
2.         Procedures for design and construction
3.         Payment arrangements, risks and project cost estimating
4.         Contract conditions used for civil engineering work
5.         Preparing contract documents
6.         Tendering
7.         The contractor's site organization
8.         The employer and his engineer
9.         The resident engineer's duties
10.       Health and safety regulations
11.       Starting the construction work
12.       Site surveys, investigations and layout
13.       The resident engineer's office records
14.       Programme and progress charts
15.       Measurement and bills of quantities
16.       Interim monthly payments
17.       Variations and claims
18.       Earthworks and pipelines
19.       Site concreting and reinforcement
Civil Engineering Project Management, Fourth Edition PDF
Author(s): Alan Twort, Gordon Rees
Publisher: CRC Press, Year: 2003
ISBN: 0750657316
Related Results : civil engineering construction project management pdf,civil engineering project management books pdf,civil engineering project management fourth edition pdf,civil engineering project management pdf,civil engineering project management pdf downloadcivil engineering project planning and management pdf,
See More POST On : Engineering Books