Furniture Design 2nd Edition by Jim Postell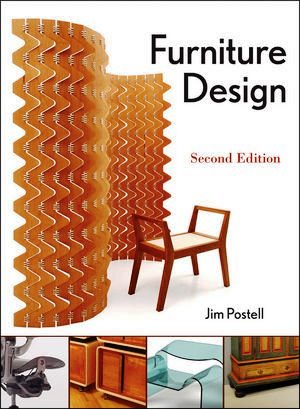 Furniture Design 2nd Edition by Jim Postell | PDF Free Download.
Book Details :
Language
English
Pages
434
Format
PDF
Size
21.5 MB
Furniture Design Contents
---
Introduction to Furniture Design

Function and Social Use

Form, Spatial Organization, and Typological Orders

Furniture Case Studies

Furniture Design Theory

Design

Materials 

Processes and Methods of Fabrication

Professional Practice and Marketing

Historical Overview
Preface to Furniture Design PDF
---
ALVAR AALTO (1898–1976), Charles Rennie Mackintosh (1868–1928), and Frank Lloyd Wright (1867–1959) were architects who integrated custom furnishings into their buildings and interior spaces (Figure P-1).
Interior designers such as Eileen Gray (1878–1976), Yoshiharu Hatano (b. 1946), Eva Maddox (b. 1944), and Andrée Putnam (b. 1925) are renowned for their skill in blending textures and furnishings with interior space. Henry Dreyfuss (1904–1972) and Bill Stumpf (1936–2006) were industrial designers who utilized industrial manufacturing processes in their furniture designs.
Woodworkers and artisans such as Wendell Castle (b. 1932), Sam Maloof (1916–2009), George Nakashima (1905–1990), and Pierluigi Ghianda (b. 1926) worked throughout their lives to create furniture with remarkable handcraft and finish (Figure P-2).
Charles (1907–1978) and Ray (1912–1988) Eames, Poul Kjærholm (1929–1980), Pierre Paulin (1927–2009), Charlotte Perriand (1903–1999), Gaetano Pesce (b. 1939), and Hans J. Wegner (1914–2007) developed professional careers designing furniture.
Regardless of their academic background or professional affiliation, these individuals are renowned for innovative furniture designs (Figure P-3).
Consider the viewpoints brought to furniture design by these individuals and the unique disciplinary qualities within the fields of art, architecture, interior design, and industrial design.
There are pronounced differences in the way architects and interior designers create a sense of place by designing, selecting, and locating furniture; in the way, industrial designers seek to resolve industrial fabrication processes and integrate utility, human factors, and ergonomics in design; and in the way that artists are trained in their craft.
Many individuals and disciplines to contribute to the body of knowledge of furniture design. Think about the influence that material properties, use, applied forces, the surrounding environment, and ergonomics have on furniture design.
Reflect upon the historical, cultural, political, and societal conditions revealed in the way people sit, rest, work, and play, or the human factors research and anthropometric data on which furniture designers rely.
Many factors should be considered when designing furniture. Most are situated within personal, cultural, disciplinary, and professional frames of reference.
This second-edition textbook is written to serve students and furniture designers as a comprehensive survey and resource to give a deeper understanding and provide knowledge and inspiration for designing and making furniture.
It has been rewritten to deliver a more extensive overview of furniture design through further documentation and analysis, with a focus upon the stories and design intentions behind the furniture examples presented in this book.
There are broader examples of furniture presented throughout the book, in-depth material specifications, and updated material covering digital design and fabrication technologies.
The primary intention of this book is to articulate how ideas, use, design process, materials, and fabrication methods contribute to furniture design. This was a central theme in the first edition.
This edition attempts to be more effective in achieving that goal. Revisions have been made to each of the 10 chapters, which include: Chapter 1, "Introduction to Furniture Design," which presents an expanded overview of the discipline and introduces threads of disciplinary-centered research and research methods.
Basic relationships are outlined between furniture and design, setting the stage for a comprehensive and extensive survey.
Chapter 2, "Function and Social Use," describes social-use categories, notions of utility, ergonomics, and function.
Chapter 3, "Form, Spatial Organization, and Typological Orders," addresses a range of physical, compositional, and spatial characteristics in furniture design.
Chapter 4, "Furniture Case Studies," presents 25 furniture studies organized in chronological order with new sustainable and digital design updates. In addition to the case studies, selected furniture projects by students highlight unique ways of thinking about furniture design, whose pedagogy and methodology were drawn from this book.
Chapter 5, "Furniture Design Theory," examines the nature of furniture design, focusing on aspects of comfort, performance, structural integrity, and composition, how furniture works and feels green design, and digital fabrication, and includes expanded discussion on human factors, ergonomics, and aesthetics.
Chapter 6, "Design," presents an overview of design principles and focuses on the phases, processes, tools, skills, and ethics of designing furniture.
This edition introduces more designers, further examples of furniture pieces, and more specific working methods of design—including digital design technologies.
Chapter 7, "Materials," outlines an updated palette of natural, composite, and synthetic materials and discusses material properties and surface characteristics relative to furniture design.
Chapter 8, "Processes and Methods of Fabrication," discusses ways of fabricating furniture (beyond woodworking technologies), with an overview of hand, power, and digital tools.
Chapter 9, "Professional Practice and Marketing," covers professional aspects related to the marketing, branding, and business of designing, making, and selling furniture.
Furniture companies are included as both a source and resource for the reader. Expanded content is given to economic forces, global markets, professional outlets, and venues, in which the public and the discipline interact.
Chapter 10, "Historical Overview," highlights how societies have thought about, designed, fabricated, and used furniture from ancient Egypt up to the present.
Revised content has been added to include recent furniture designs produced or fabricated within the past 10 years.
Designing furniture relies upon judgment, theory, and technical knowledge from several professions and disciplines.
The breadth and depth of knowledge necessary to design, specify, select, fabricate, and arrange furniture in space are extensive.
This book draws on this knowledge and, in doing so, reaches out to students, faculty, the general public, and professionals in allied fields of design.
It remains a challenge for some individuals to acknowledge furniture design as a standalone profession or even as a vocation because it is intertwined with several disciplines.
It is difficult to formulate a collective dialogue about furniture design because each discipline approaches design and fabrication from unique perspectives and each perspective is tethered to specific assumptions, frameworks, and agendas.
Look back to the time when interior design was an emerging field and consider its historical beginnings. One can determine that interior design developed from several fields, the work of key individuals, unique professional practices, and established academic programs.
The fields of architecture, design, fine arts, and the decorative arts, in conjunction with the professional practices of James Adam (1732–1794) and Robert Adam (1728–92), Elsie de Wolfe (1856–1950), and Florence Knoll (b. 1917) would deserve recognition for their contribution to the emergence of interior design as a discipline and emerging profession.
In the 1950s, the discipline of industrial design began to emerge. The work of Norman Bel Geddes (1893–1958) and Raymond Loewy (1893–1986) helped to promote interest in the discipline, as did emerging industrial fabrication processes and new mass customization and digital fabrication technologies.
It is important to acknowledge the collective influence architects, interior designers, industrial designers, and fine artists have had on the disciplinary and academic stature of furniture design, but one should also consider the important roles that entrepreneurs, fabricators, craftspeople, engineers, human factor researchers, and the general public have played as well.
It is the author's hope that this book will remain a useful survey for students and faculty, and continue to serve as a resource for designers and fabricators interested in furniture design.
Download Furniture Design 2nd Edition by Jim Postell PDF Free.
See More POST On : Engineering Books