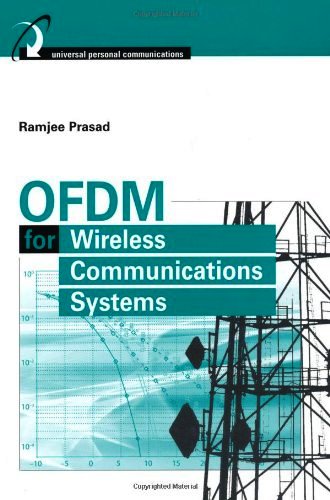 ---
Book Details :
Language
English
Pages
291
Format
PDF
Size
5.30 MB
---
OFDM for Wireless Communications Systems by Ramjee Prasad
---
OFDM for Wireless Communications Systems by Ramjee Prasad PDF Free Download.
Author of OFDM for Wireless Communications Systems PDF
---
Ramjee Prasad received his B.Sc. in engineering from the Bihar Institute of Technology, Sindri, India, and his M.Sc. in engineering and Ph.D. from Birla Institute of Technology (BIT), Ranchi, India, in 1968, 1970, and 1979, respectively.
Professor Prasad joined BIT as a senior research fellow in 1970 and became an associate professor in 1980.
While he was with BIT, he supervised a number of research projects in the area of microwave and plasma engineering.
From 1983 to 1988, he was with the University of Dar es Salaam (UDSM), Tanzania, where he became a professor of telecommunications in the Department of Electrical Engineering in 1986.
At UDSM, he was responsible for the collaborative project "Satellite Communications for Rural Zones" with the Eindhoven University of Technology, the Netherlands.
From 1988 through 1999, he was with the Telecommunications and Traffic Control Systems Group at Delft University of Technology (DUT), where he was actively involved in the area of wireless personal and multimedia communications (WPMC).
He was the founding head and program director of the Center for Wireless and Personal Communications (CWPC) of the International Research Center for Telecommunications—Transmission, and Radar (IRCTR). Since 1999, Professor Prasad has been with Aalborg University.
He has acted as the co-director of the Center for PersonKommunikation (CPK) and the research director of the Department of Communications Technology and is the founding director of the Center for Teleinfrastructure (CTIF).
Professor Prasad holds the chair of wireless information and multimedia communications. He was involved in the European ACTS project "Future Radio Wideband Multiple-Access Systems" (FRAMES) as a DUT project leader.
He is a project leader of several international, industrially funded projects. He is the project coordinator of the European sixth framework integrated project "My Personal Adaptive Global NET" (MAGNET).
Professor Prasad has published over 500 technical papers, contributed to several books, and has authored, co-authored, and edited 14 books: CDMA for Wireless Personal Communications, Universal Wireless Personal Communications,
Wideband CDMA for Third Generation Mobile Communications, OFDM for Wireless Multimedia Communications, Third Generation Mobile Communication Systems, WCDMA: Towards IP Mobility and Mobile Internet, Towards a Global 3G System:
Advanced Mobile Communications in Europe, Volumes 1 and 2, IP/ATM Mobile Satellite Networks, Simulation and Software Radio for Mobile Communications,
Wireless IP and Building the Mobile Internet, WLANs and WPANs towards 4G Wireless, Technology Trends in Wireless Communications, and Multicarrier Techniques for 4G Mobile Communications, all published by Artech House.
His current research interests lie in wireless networks, packet communications, multiple-access protocols, advanced radio techniques, and multimedia communications.
Professor Prasad has served as a member of the advisory and program committees of several IEEE international conferences. He has also presented keynote speeches and delivered papers and tutorials on WPMC at various universities, technical institutions, and IEEE conferences.
He also participated in the European cooperation in the scientific and technical research (COST-231) project dealing with the evolution of land mobile radio (including personal) communications as an expert for the Netherlands, and he was a member of the COST-259 projects.
Professor Prasad was the founder and chairman of the IEEE Vehicular Technology/Communications Society Joint Chapter, Benelux Section, and is now the honorary chairman.
In addition, Professor Prasad is the founder of the IEEE Symposium on Communications and Vehicular Technology (SCVT) in Benelux, and he was the symposium chairman of SCVT'93.
In addition, Professor Prasad is the coordinating editor and editor-in-chief of the Kluwer International Journal on Wireless Personal Communications and a member of the editorial board of other international journals, including the IEEE Communications Magazine and IEE Electronics Communication Engineering Journal.
OFDM Contents
---
Introduction

WLANs

WPANs

Appropriate Channel Model for OFDM Systems

Basics of OFDM and Synchronization

The Peak Power Problem

A Novel Hybrid OFDM Concept

A Practical OFDM System: Fixed Broadband Wireless Access (FBWA)
Preface to OFDM for Wireless Communications Systems eBook
---
My wireless (mobile) garden is full of flowers with varieties of flavors, for example, CDMA, OFDM, and so forth.
Last year I realized my "OFDM flower" has become a "paragon" with the successful completion of the work of several masters, doctoral, and postdoctoral candidates, for example, Mohindar Jankiraman, Dusan Matic, Klaus Witrisal, Uma Jha, Richard van Nee, Shinsuke Hara, Hiroshi Harada, and so on.
Therefore, I decided to put together in one place their interesting and valuable contributions, particularly of those of Klaus, Jankiraman, Uma, and Richard.
Although I coauthored OFDM for Wireless Multimedia Communications with Richard and Multicarrier Techniques for 4G Mobile Communications with Shinsuke, this book is very different in that it presents an overview of the wireless local area network (WLAN), wireless personal area network (WPAN), frequency-domain channel model, a novel hybrid OFDM concept, and a practical OFDM system.
Figure P.1 illustrates the coverage of this book. This book illustrates the role of OFDM in developing an adaptive system by designing OFDM-based wireless wide area networks (WWANs), WLANs, and WPANs.
It is based on the contributions of several researchers who had or have been actively involved in growing the OFDM flower in the wireless (mobile) garden under my gardeners.
As a gardener, I have tried my best to provide enough water and energy to nurture the OFDM flower up until this point. In the future, it will sow several other interesting colors, which I will bring to you at that time.
Acknowledgments
I would like to express my heartfelt gratitude to colleagues and students without whom this book would have never been completed, namely, Mohindar, Dusan, Klaus, Uma, Richard, Petar, Hiro, Carl, Liljana, Shinsuke, Hiroshi, and Anand. Junko gave her support in preparing the typescript of the book.
OFDM for Wireless Communications Systems PDF
Author(s): Ramjee Prasad
Series: Artech House universal personal communications series
Publisher: Artech House, Year: 2004
ISBN: 1580537960
Download OFDM for Wireless Communications Systems by Ramjee Prasad PDF Free.
Related Results : ofdm for wireless communications systems,ofdm for wireless communications systems by ramjee prasad,ofdm for wireless communications systems pdf,
See More POST On : Engineering Books