| | |
| --- | --- |
| Book Name: | RCS Synthesis for Chipless Rfid |
| Category: | Telecommunication Books |
| Free Download: | Available |
Free PDF Download RCS Synthesis for Chipless Rfid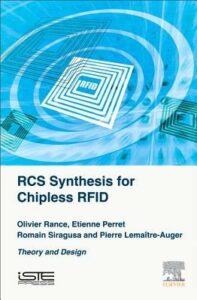 Book Description:
RCS Synthesis for Chipless RFID: Theory and Design focuses on developing the chipless RFID tag, a new family of low-cost tags. To increase the coding capacity of the tag, a new design method based on RCS synthesis is proposed. Although this new approach has been developed in the simplified context of chipless RFID, it can be extended to other domains, such as reflect arrays or frequency-selective surfaces.
Includes a theoretical presentation of scattering phenomenon in electromagnetism, regrouping elements from classical RFID, pulse radar, and antenna theory
Features a new coding technique based on magnitude level that is presented and characterized for different kinds of tags
Proposes, for the first time, RCS synthesis based on a physical approach for wide-frequency bands.
RCS Synthesis for Chipless Rfid: Theory and Design PDF
Author(s): Olivier Rance; Etienne Perret; Romain Siragusa; Pierre Lemaitre-Auger
Publisher: Iste Press – Elsevier, Year: 2017
ISBN: 1785481444,9781785481444
Related More Books