Resume Secrets Exposed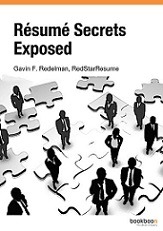 Book Description
Welcome to Resume Secrets Exposed. This eBook has been written to provide you with as many tips and secrets to writing the perfect CV as possible. Resume writing is an art form, and to find a new job, you must first be able to write a compelling CV that will stand you out from the competition. While there is no exact science to writing the perfect CV, this eBook will provide as much information on what to include in the CV and avoid the significant mistakes that commonly lead to your CV being deleted.
Resume Secrets Exposed is the second book by Gavin Redelman, following up from his highly successful first eBook, Six Steps To Job Search Success, an insider's view on how to ace the job interview!
About the Authors
Gavin F. Redelman is a trainer in career management and has managed two career development centers, organized open learning programs for career guidance, and provided career counseling to management professionals, the long-term unemployed, and adults with special needs.
Resume Secrets Exposed PDF
See More POST On : A Special Books