Sonic Wind: The Story of John Paul Stapp and How a Renegade Doctor Became the Fastest Man on Earth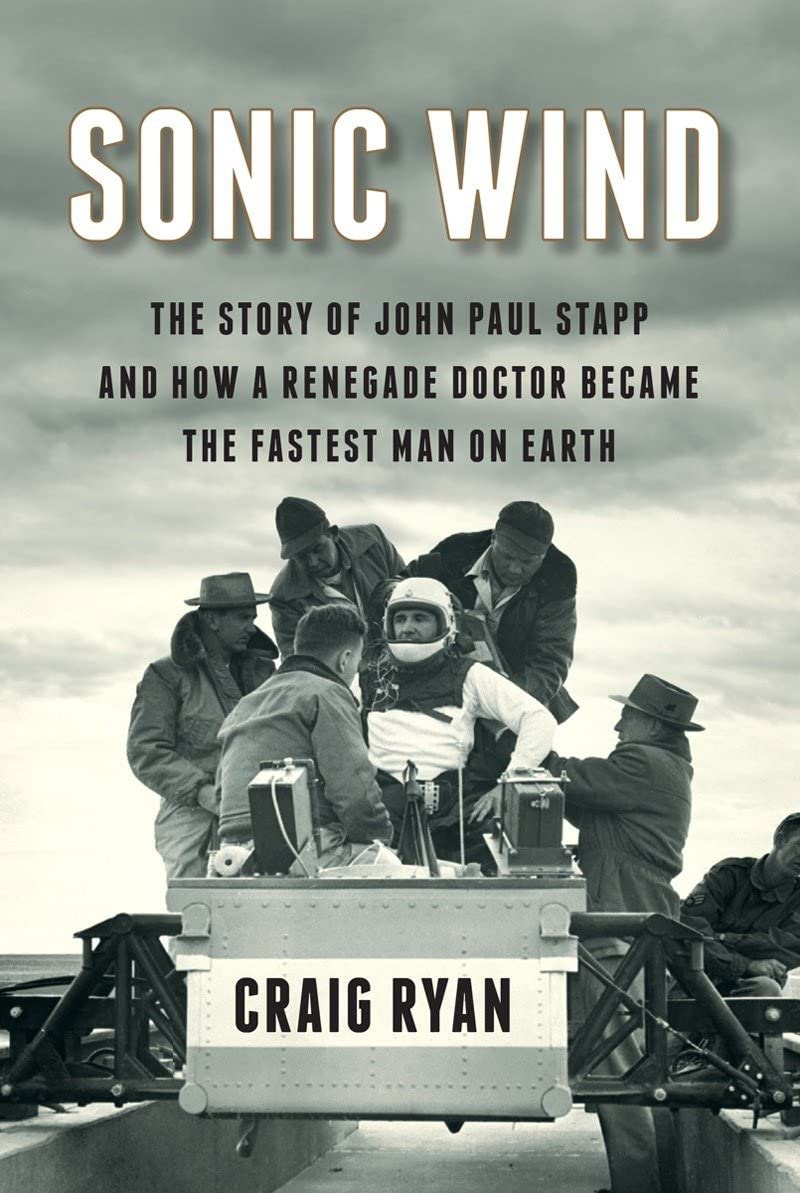 Book Description:
Just as he felt the thunder of the fighter jet roaring up behind him,
John Paul Stapp heard the dry pop of the igniters. A 35-foot river of flame erupted behind the rocket sled, almost instantly propelling Stapp to 639 miles per hour. Flying the observation jet above, legendary test pilot Joe Kittinger was astonished to see Stapp's Sonic Wind outracing him. Then, suddenly, the sled slammed to a stop—from the speed of a. 45-caliber bullet to a standstill in just over one second.
This 1954 experiment—which still stands as the most punishing deceleration voluntarily encountered—immediately transformed Stapp into a celebrity, putting him on the cover of Time magazine as "the Fastest Man on Earth." Even though the experiment almost cost him his eyesight, it proved what Stapp had been saying for years: that we can survive any kind of crash as long as we have well-designed vehicles and sound safety systems.
Drawing from troves of previously unpublished government documents, Stapp's files, and dozens of new interviews, renowned biographer and historian Craig Ryan now recount the unforgettable life of a renegade doctor who risked everything in the name of safety. Vividly recreating an American panorama of a time when all eyes were pointed skyward, Ryan traces Stapp's story from his humble beginnings as the son of Texas missionaries, to his death-defying rocket sled experiments in the California and New Mexico deserts, to his high-altitude balloon programs, which set records that were not eclipsed for fifty years. We see Stapp rewrite the textbooks on what the human body can withstand, establishing protocols for stratospheric survival and vetting the Mercury astronauts for the great "space race" that lay ahead with his loyal team of swashbuckling scientists, engineers, and test pilots. When Washington bureaucrats got tired of Stapp's dangerous experiments, he turned his attention to the slaughterhouses that were America's highways. He was a leader in car safety long before Ralph Nader came along.
Before he was done, Stapp helped pave the way for seatbelts, airbags, and ejection seats, arguably saving more lives than anyone in history. However, as this thrilling work demonstrates, Stapp didn't win every battle. His unconventional style of scientific research made him a pariah among some of his Air Force superiors, and his life of triumphs included lesser-known personal and professional failures. Sonic Wind is the fully realized portrait of a great American scientist, a man whose courage and influence made an indelible mark on the twentieth century and beyond. In the tradition of The Right Stuff and Yeager, that legacy is reclaimed in a story that is as much a chronicle of our transition into the Jet Age as it is a biography of the man who got us there safely.
Sonic Wind: The Story of John Paul Stapp and How a Renegade Doctor Became the Fastest Man on Earth PDF
Author(s): Craig Ryan
Publisher: Liveright, Year: 2015
ISBN: 9780871406774