Springer Handbook of Global Navigation Satellite Systems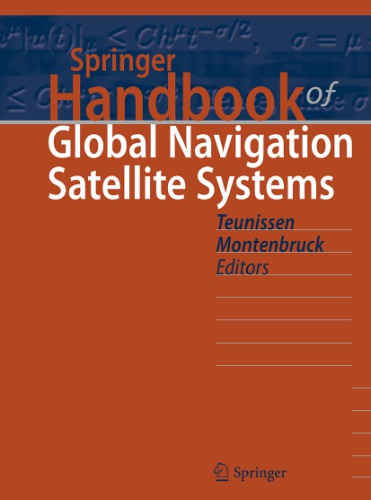 Book Description:
This Handbook presents a complete and rigorous overview of the fundamentals, methods, and applications of the multidisciplinary field of Global Navigation Satellite Systems (GNSS), providing an exhaustive, one-stop reference work and a state-of-the-art description of GNSS as a critical technology for science and society at large.
All global and regional satellite navigation systems currently in operation and those under development (GPS, GLONASS, Galileo, BeiDou, QZSS, IRNSS/NAVIC, SBAS) are examined in detail. The functional principles of receivers and antennas, as well as the advanced algorithms and models for GNSS parameter estimation, are rigorously discussed. The book covers the broad and diverse range of land, marine, air, and space applications, from everyday GNSS to high-precision scientific applications. It provides detailed descriptions of the most widely used GNSS format standards, covering receiver formats and IGS product and meta-data formats.
In seven parts, the basics of GNSS, global and regional navigation satellite systems, receivers and antennas, algorithms and models, and a wide range of applications in positioning and navigation, surveying, geodesy and geodynamics, remote sensing, and timing are all covered.
Each chapter is written by international experts and amply illustrated with figures and photographs, making the book an invaluable resource for scientists, engineers, students, and institutions.
Springer Handbook of Global Navigation Satellite Systems PDF
Author(s): Peter J.G. Teunissen, Oliver Montenbruck
Series: Springer Handbooks
Publisher: Springer, Year: 2017
ISBN: 978-3-319-42928-1