Synthesis and Modification of Heterocycles by Metal-Catalyzed Cross-coupling Reactions by Patonay and Konya :: This volume is focused on new and innovative metal-catalysed reactions that lead to the formation of a carbon–carbon or a carbon–nitrogen bond. In the first chapter entitled 'Metal-Catalyzed Cross-Coupling Reactions in the Decoration of Pyridines', Moumita Koley, Michael Schnu¨rch and Marko D. Mihovilovic outline cross-coupling reactions of pyridine derivatives applying the approaches that involve pyridine as organometal or as (pseudo)halide species. A lot of research is dedicated to cross-coupling reactions in aqueous medium that is of particular importance for environmental reasons. This chapter brings all types of crosscoupling methods covering mainly the literature from the past decade.
The chapter 'Metal-Catalyzed Cross-Coupling Reactions in the Decoration of Pyrimidine, Pyridazine, and Pyrazine' by Laurin Wimmer, Lukas Rycek, Moumita Koley and Michael Schnu¨rch provides us with the comprehensive review on the cross-coupling chemistry of electron-deficient N-heterocycles containing two nitrogen atoms. The focus lies on new developments in the field, e.g. regarding new catalytic systems, and covers literature from 2008 until late 2013. The third chapter entitled 'Metal-Catalysed Cross-Coupling Reactions in the Synthesis and Transformations of Quinolones and Acridones' by Raquel S. G.
R. Seixas, Vera L. M. Silva and Artur M. S. Silva is an overview of the applications of cross-coupling reactions in the synthesis and transformations of quinolones and acridones. These compounds are widely recognized by their diverse bioactivity being useful structural moieties for drug candidates. Furthermore, they hold significant interest due to their host–guest chemistry; applications in chemical, biochemical and environmental analyses; and utility in synthetic methods' development.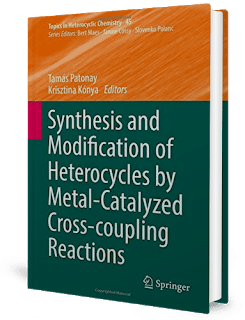 Synthesis and Modification of Heterocycles by Metal-Catalyzed Cross-coupling Reactions by Patonay and Konya
Title:

Synthesis and Modification of Heterocycles by Metal-Catalyzed Cross-coupling Reactions

Editor:

Tamás Patonay
Krisztina Kónya

Edition:

Topics in Heterocyclic Chemistry 45

Publisher:

Springer Publications

Length:

371 pages

Size:

38.4 MB

Language:

English
Synthesis and Modification of Heterocycles by Metal-Catalyzed Cross-coupling Reactions
Author(s): Tamás Patonay, Krisztina Kónya (eds.)
Series: Topics in Heterocyclic Chemistry 45
Publisher: Springer International Publishing, Year: 2016
ISBN: 978-3-319-32608-5
Download
[PDF] Synthesis and Modification of Heterocycles by Metal-Catalyzed Cross-coupling Reactions by Patonay and Konya Table Of Contents
Front Matter….Pages i-xi
Metal-Catalyzed Cross-Coupling Reactions in the Decoration of Pyridines….Pages 1-60
Metal Catalyzed Cross-Coupling Reactions in the Decoration of Pyrimidine, Pyridazine, and Pyrazine….Pages 61-157
Metal-Catalysed Cross-Coupling Reactions in the Synthesis and Transformations of Quinolones and Acridones….Pages 159-229
Synthesis and Transformations of Oxygen Heterocycles….Pages 231-303
Transition Metal-Catalyzed Coupling Reactions in Library Synthesis….Pages 305-358
Back Matter….Pages 359-362