Refrigeration and Air Conditioning by RS Khurmi :: "A Textbook of Refrigeration and Air Conditioning" is an aptly written textbooks for the students of Mechanical Engineering while also a must-read for anyone with an interest in the subject.
For 30 years, topics such as Air Refrigeration Cycles and Systems, Vapour Compression Refrigeration Systems (Simple and Compound), Refrigerants (incl. Compressors), Psychrometry and Applications of Refrigeration and Air Conditioning have been included and updated for students to conceptualise the subject in a complete manner. The chapters consist of various exercises, examples, and multiple illustrations that aid in understanding the subject better. The subject of refrigeration and airconditioning is one of great significance as public focus shifts to food processing and preservation technologies. This highlights the need for professionals well-versed in the basics of this technology.
A Textbook Of Refrigeration And Air Conditioning elaborates on the basics of this subject by including discussions on topics like multiple evaporator and compressor systems, simple and compound vapour compression refrigeration systems, air refrigeration cycles and systems, psychrometry, vapour absorption refrigeration and compressor systems, comfort conditions, psychrometry, refrigerants and compressors, cooling load estimation, steam jet refrigeration system, evaporators, condensers, expansion devices, and food preservation including cryogenics, fans, and ducts. A Textbook Of Refrigeration And Air Conditioning also features practical applications of refrigeration and air conditioning, thereby helping to buttress the theoretical knowledge already gleaned. The revised edition features colour pictures and refrigeration tables with charts, which help enhance the value of the content and assist students to bridge the gap between theory and practice.
Refrigeration and Air Conditioning by RS Khurmi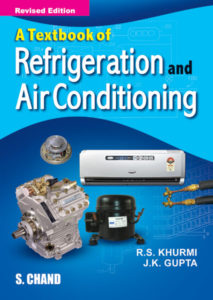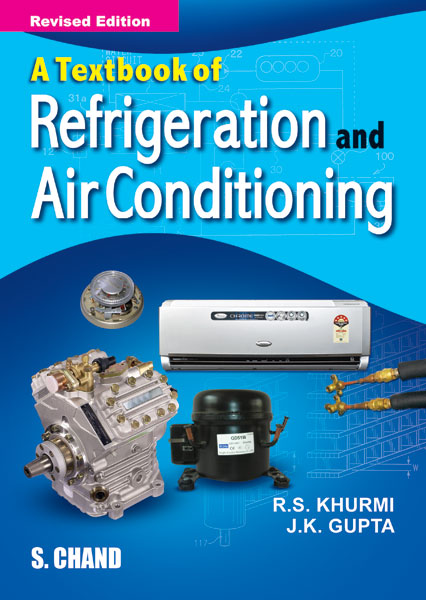 Table of Content

1. Introduction 2. Air Refrigeration Cycles 3. Air Refrigeration Systems 4. Simple Vapour Compression Refrigeration Systems 5. Compound Vapour Compression Refrigeration Systems 6. Multiple Evaporator And Compressor Systems 7. Vapour Absorption Refrigeration Systems 8. Refrigerants 9. Refrigerant Compressors 10. Condensers 11. Evaporators 12. Expansion Devices 13. Food Preservation 14. Low Temperature Refrigeration (Cryogenics) 15. Steam Jet Refrigeration System 16. Psychrometry 17. Comfort Conditions 18. Air Conditioning Systems 19. Cooling Load Estimation 20. Ducts 21. Fans 22. Applications Of Refrigeration And Air Conditioning 23. Index
We all know that S. Chand is most popular Publisher. ( RS Khurmi & JK Gupta )
See More Popular Mechanical Books also –
Theory Of Machine By RS Khurmi PDF 
Machine Design By RS Khurmi PDF 
Fluid Mechanics By RK Bansal PDF 
Power Plant Engineering By RK Rajput PDF 
Heat And Mass Transfer By RK Rajput PDF
Refrigeration And Air Conditioning By RS Khurmi PDF
Thermal Engineering By RK Rajput PDF
Engineering Mechanics By RS Khurmi PDF  
Internal Combustion Engine by R K Rajput PDF
Operations Research S Chand PDF 
Strength of Material by RK Bansal PDF 
Theory of Machines By SS Rattan PDF 
Mechanical Engineering Objective Questions And Answers PDF Free Download
Currently third party Downloading link (not uploaded by freepdfbook.com) removed due to copyright infringement material, Our site does not support to share this of material.
Original Link of Material :
https://www.schandpublishing.com/books/tech-professional/mechanical-engineering/textbook-refrigration-airconditioning-me/9788121927819/
Support to Author by Buying Paperbook from link given below…
Use this most popular materials, Here also available Lecture notes from IITs