Electric Power Substations Engineering Book PDF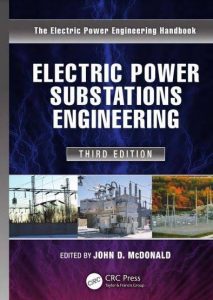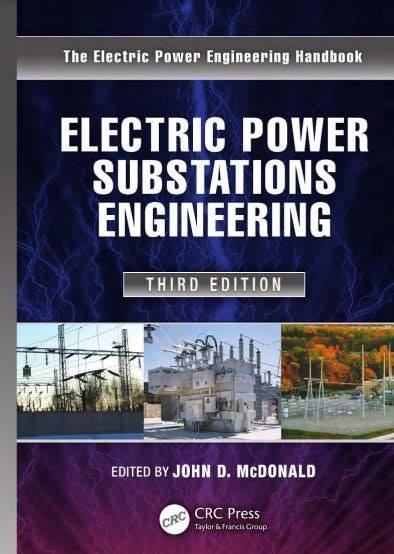 Book Pages: 522
Table of contents:
1 How a Substation Happens
2 Gas-Insulated Substations
3 Air-Insulated Substations: Bus/Switching Configurations
4 High-Voltage Switching Equipment
5 High-Voltage Power Electronic Substations
6 Interface between Automation and the Substation
7 Substation Integration and Automation
8 Oil Containment
9 Community Considerations
10 Animal Deterrents/Security
11 Substation Grounding
12 Direct Lightning Stroke Shielding of Substations
13 Seismic Considerations
14 Substation Fire Protection
Electric Power Substations Engineering, Third Edition PDF
Author(s): John D. McDonald
Series: The Electric Power Engineering Handbook
Publisher: CRC Press, Year: 2012
ISBN: 1439856389, 9781439856383
Description:
The use of electric power substations in generation, transmission, and distribution remains one of the most challenging and exciting areas of electric power engineering. Recent technological developments have had a tremendous impact on all aspects of substation design and operation. With 80% of its chapters completely revised and two brand-new chapters on energy storage and Smart Grids, Electric Power Substations Engineering, Third Edition provides an extensive updated overview of substations, serving as a reference and guide for both industry and academia. Contributors have written each chapter with detailed design information for electric power engineering professionals and other engineering professionals (e.g., mechanical, civil) who want an overview or specific information on this challenging and important area. This book: Emphasizes the practical application of the technology Includes extensive use of graphics and photographs to visually convey the book's concepts Provides applicable IEEE industry standards in each chapter Is written by industry experts who have an average of 25 to 30 years of industry experience Presents a new chapter addressing the key role of the substation in Smart Grids Editor John McDonald and this very impressive group of contributors cover all aspects of substations, from the initial concept through design, automation, and operation. The book's chapters—which delve into physical and cyber-security, commissioning, and energy storage—are written as tutorials and provide references for further reading and study. As with the other volumes in the Electric Power Engineering Handbook series, this book supplies a high level of detail and, more importantly, a tutorial style of writing and use of photographs and graphics to help the reader understand the material. Several chapter authors are members of the IEEE Power & Energy Society (PES) Substations Committee and are the actual experts who are developing the standards that govern all aspects of substations. As a result, this book contains the most recent technological developments in industry practice and standards. A volume in the Electric Power Engineering Handbook, Third Edition.
Download Electric Power Substations Engineering PDF