Big Magic : Creative Living Beyond Fear by Elizabeth Gilbert Author of Eat Pray Love :: Hidden Treasure; Once upon a time, there was a man named Jack Gilbert, who was not related to me— unfortunately for me. Jack Gilbert was a great poet, but if you've never heard of him, don't worry about it. It's not your fault. He never much cared about being known. But I knew about him, and I loved him dearly from a respectful distance, so let me tell you about him.
Jack Gilbert was born in Pittsburgh in 1925 and grew up in the midst of that city's smoke, noise, and industry. He worked in factories and steel mills as a young man, but was called from an early age to write poetry. He answered the call without hesitation. He became a poet the way other men become monks: as a devotional practice, as an act of love, and as a lifelong commitment to the search for grace and transcendence. I think this is probably a very good way to become a poet. Or to become anything, really, that calls to your heart and brings you to life.
Jack could've been famous, but he wasn't into it. He had the talent and the charisma for fame, but he never had the interest. His first collection, published in 1962, won the prestigious Yale Younger Poets prize and was nominated for the Pulitzer. What's more, he won over audiences as well as critics, which is not an easy feat for a poet in the modern world. There was something about him that drew people in and kept them captivated. He was handsome, passionate, sexy, brilliant on stage. He was a magnet for women and an idol for men. He was photographed for Vogue, looking gorgeous and romantic. People were crazy about him. He could've been a rock star.
Instead, he disappeared. He didn't want to be distracted by too much commotion. Later in life he reported that he had found his fame boring—not because it was immoral or corrupting, but simply because it was exactly the same thing every day. He was looking for something richer, more textured, more varied. So he dropped out. He went to live in Europe and stayed there for twenty years. He lived for a while in Italy, a while in Denmark, but mostly he lived in a shepherd's hut on a mountaintop in Greece. There, he contemplated the eternal mysteries, watched the light change, and wrote his poems in private. He had his love stories, his obstacles, his victories. He was happy. He got by somehow, making a living here and there. He needed little. He allowed his name to be forgotten.
After two decades, Jack Gilbert resurfaced and published another collection of poems. Again, the literary world fell in love with him. Again, he could have been famous. Again, he disappeared—this time for a decade. This would be his pattern always: isolation, followed by the publication of something sublime, followed by more isolation. He was like a rare orchid, with blooms separated by many years. He never promoted himself in the least. (In one of the few interviews he ever gave, Gilbert was asked how he thought his detachment from the publishing world had affected his career. He laughed and said, "I suppose it's been fatal.") . . . Download To Read More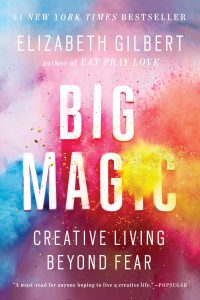 big magic creative living beyond fear pdf,big magic creative living beyond fear pdf free download,big magic creative living beyond fear free download,big magic creative living beyond fear elizabeth gilbert,big magic creative living beyond fear summary,big magic creative living beyond fear review,big magic creative living beyond fear audiobook,big magic creative living beyond fear quotes,big magic creative living beyond fear by elizabeth gilbert,big magic creative living beyond fear amazon,big magic creative living beyond fear elizabeth gilbert audiobook,big magic creative living beyond fear pdf free,big magic creative living beyond fear epub,big magic creative living beyond fear by elizabeth gilbert pdf,big magic creative living beyond fear by elizabeth gilbert summary,big magic creative living beyond fear book review,book big magic creative living beyond fear,elizabeth gilbert big magic creative living beyond fear,big magic creative living beyond fear download,big magic creative living beyond fear pdf download,big magic creative living beyond fear audiobook download,big magic creative living beyond fear epub free download,big magic creative living beyond fear deutsch,big magic creative living beyond fear elizabeth gilbert pdf,big magic creative living beyond fear free pdf,big magic creative living beyond fear goodreads,big magic creative living beyond fear read online,big magic creative living beyond fear wiki
Big Magic : Creative Living Beyond Fear by Elizabeth Gilbert Author of Eat Pray Love
Title: Big Magic | Creative Living Beyond Fear
Editor: Elizabeth Gilbert
Length:616 pages
Size: 2.0 MB
Language: English