Flow and Combustion in Reciprocating Engines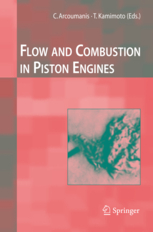 This volume investigates and describes flow and combustion processes in diesel and gasoline engines. It consists of eight chapters written by world experts from industry, government laboratories and academia. Each of the chapters is self-contained and, therefore, independent from the other in that it covers its central theme in depth, although prior knowledge of the fundamentals remains a prerequisite.
The book bridges a serious gap between conventional textbooks and the significant technological breakthroughs presented in worldwide conferences during the last ten years on direct-injection gasoline engines, advanced diesels and homogeneous-charge compression-ignition engines. As such, it is an essential reference text for engineers involved in research and development in global automotive and consultancy companies, research engineers involved in fundamental and applied research on various aspects of the flow, mixture preparation and combustion in reciprocating engines.
Table of Contents
Spark Ignition and Combustion in Four-Stroke Gasoline Engines
Fuel Effects on Engine Combustion and Emissions
Flow, Mixture Preparation and Combustion in Direct-Injection Two-Stroke Gasoline Engines
Flow, Mixture Preparation and Combustion in Four-Stroke Direct-Injection Gasoline Engines
Turbulent Flow Structure in Direct-Injection, Swirl-Supported Diesel Engines
Flow and Combustion in Reciprocating Engines (Experimental Fluid Mechanics) PDF
Author(s): C. Arcoumanis, T. Kamimoto, Editors
Publisher: Springer, Year: 2008
ISBN: 3540641424,9783540641421