The First Three Minutes- A Modern View of the Origin of the Universe – S. Weinberg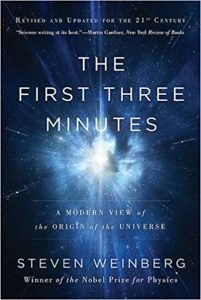 Book Description:
The evolution of our Universe and the formation of stars and galaxies are mysteries that have long puzzled scientists. Recent years have brought new scientific understanding of these profound and fundamental issues. In lively prose, Professor Padmanabhan paints a picture of contemporary cosmology for the general reader. Unlike other popular books on cosmology, After the First Three Minutes does not gloss over details, or shy away from explaining the underlying concepts. Instead, with a lucid and informal style, the author introduces all the relevant background and then carefully pieces together an engaging story of the evolution of our Universe. Padmanabhan leaves the reader with a state-of-the-art picture of scientists' current understanding in cosmology and a keen taste of the excitement of this fast-moving science. Throughout, no mathematics is used and all technical jargon is clearly introduced and reinforced in a handy glossary at the end of the book. For general readers who want to come to grips with what we really do and don't know about our Universe, this book provides an exciting and uncompromising read. Thanu Padmanabhan is a Professor at Inter-University Centre for Astronomy and Astrophysics in Pune, India. He is the recipient of numerous awards and author of three books, Structure Formation in the Universe (Cambridge, 1994), Cosmology and Astrophysics Through Problems (Cambridge, 1996), and, together with J.V. Narlikar, Gravity, Gauge Theories and Quantum Cosmology. He is also the author of more than one hundred popular science articles, a comic strip serial and several regular columns on astronomy, recreational mathematics, and the history of science.
This classic of contemporary science writing by a Nobel Prize-winning physicist explains to general readers what happened when the universe began, and how we know.
The First Three Minutes- A Modern View of the Origin of the Universe
Editor:           Steven Weinberg (Winner of Noble Prize)
Edition           N/A
Publisher:        Fontana – Basic Books, Year: 1993
Length:           168 pages
Size:             1.75 MB
Language:         English
ISBN: 0465024378