The Greatest Adventure: A History of Human Space Exploration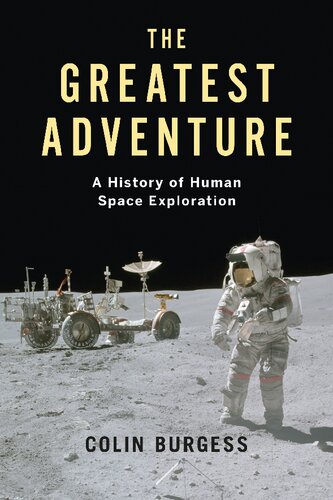 Book Description:
The space race was perhaps the most significant technological contest of the 20th century. It was a thrilling era of innovation, discovery, and exploration as astronauts and cosmonauts were launched on space missions of increasing length, complexity, and danger.
The Greatest Adventure traces the events of this extraordinary period, describing the initial string of Soviet achievements: the first satellite in orbit; the first animal, man, and woman in space; the first spacewalk; as well as the ultimate US victory in the race to land on the moon.
The book then takes the reader on a journey through the following decades of space exploration to the present time, detailing the many successes, tragedies, risks, and rewards of space exploration.
Table of contents :
Cover
Title Page
Copyright Page
Contents
Prologue
1. The Reality of Tomorrow
2. First Into Outer Space
3. Into Orbit
4. Stepping Into the Void
5. Tragedy on the Launch Pad
6. Eyes on the Moon
7. One Giant Leap
8. Soviet Setback and Skylab
9. Recovering the Soyuz / Salyut Missions
10. Space Shuttles and the ISS
11. Expanding the Space Frontier
Epilogue: Our Future in Space
References
Select Bibliography
Acknowledgments
Photo Acknowledgements
Index
The Greatest Adventure: A History of Human Space Exploration PDF
Author(s): Colin Burgess
Publisher: Reaktion Books, Year: 2021
ISBN: 9781789144604