| | |
| --- | --- |
| Book Name: | The Handbook of MPEG Applications: Standards in Practice |
| Category: | Telecommunication Books |
| Free Download: | Available |
The Handbook of MPEG Applications: Standards in Practice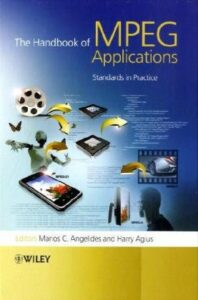 Book Description:
This book provides a comprehensive examination of the use of MPEG-2, MPEG-4, MPEG-7, MPEG-21, and MPEG-A standards, providing a detailed reference to their application.
In this book, the authors address five leading MPEG standards: MPEG-2, MPEG-4, MPEG-7, MPEG-21, and MPEG-A, focusing not only on the standards themselves but specifically on their application (e.g., for broadcast media, personalized advertising and news, multimedia collaboration, digital rights management, resource adaptation, digital home systems, and so on); including MPEG cross-breed applications. In the evolving digital multimedia landscape, this book provides comprehensive coverage of the key MPEG standards used for the generation and storage, distribution and dissemination, and delivery of multimedia data to various platforms within various application domains. It considers how these MPEG standards may be used, the context of their use, and how supporting and complementary technologies and the standards interact and add value to each other.
Key Features:
Integrates the application of five popular MPEG standards (MPEG-2, MPEG-4, MPEG-7, MPEG-21, and MPEG-A) into one single volume, including MPEG, cross-breed applications
Up-to-date coverage of the field based on the latest versions of the five MPEG standards
The opening chapter provides overviews of each of the five MPEG standards
Contributions from leading MPEG experts worldwide
Includes an accompanying website with supporting material (www.wiley.com/go/angelides_mpeg)
This book provides an invaluable reference for researchers, practitioners, CTOs, design engineers, and developers. Postgraduate students taking MSc, MRes, MPhil, and PhD courses in computer science and engineering, IT consultants, and system developers in the telecoms, broadcasting, and publishing sectors will also find this book fascinating.
The Handbook of MPEG Applications: Standards in Practice PDF
Author(s): Marios C. Angelides, Harry Agius
Publisher: Wiley, Year: 2011
ISBN: 0470750073,9780470750070
Related More Books